iPhone 8 May Feature Rear-Facing 3D Laser for Improved Autofocus and AR
Apple is working on a rear-facing 3D laser system that will enable better depth detection for augmented reality apps and more accurate autofocus in the iPhone 8, reports Fast Company, citing a source with knowledge of the company's plans.
The iPhone 8 is said to use a VCSEL (vertical-cavity surface-emitting laser) system for the rear camera, which analysts have previously speculated could be added to the device. There's also been some evidence that Apple has been sourcing VCSEL components from companies like Lumentum and Finisar, and Fast Company says Apple has tapped both companies along with II-VI for sensors.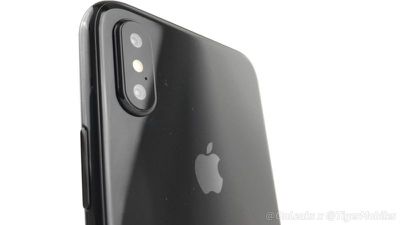 iPhone 8

rendering

via OnLeaks and TigerMobiles


VCSEL would offer faster and more accurate depth measurements for augmented reality purposes, along with speedier autofocusing when taking a photograph.
VCSEL laser systems calculate the distance the light travels from the laser to the target and back to the sensor, and generate a Time of Flight (TOF) measurement. The system consists of a source (the VCSEL laser), a lens, detector (sensor), and a processor. The whole thing costs about $2 per phone, our source says.
That Apple is working on improved augmented reality hardware for the iPhone 8 is no surprise given the focus on augmented reality and ARKit in iOS 11. New 3D camera technology was rumored for the rear-facing camera as early as November of 2016, and multiple design leaks point towards a revamped vertical dual-lens camera, suggesting a major camera revamp. The front-facing camera is also expected to include a new 3D sensor that would enable facial recognition.
According to Fast Company's source, the VCSEL system for the rear-facing camera is "probably intended" for the upcoming iPhone 8, but its inclusion "depends on the progress" Apple engineers make integrating it into the iPhone.
As we learned in a report yesterday, the source that Fast Company has spoken to believes iPhone features "can remain fluid until deep in the summer" ahead of an iPhone launch, though it seems more logical that work on the iPhone 8 is complete as we are just two months away from its prospective September introduction. Given the many rumors of a major camera redesign and previous rumors pointing towards 3D capabilities, a VCSEL laser system is a reasonable feature to expect to see in the device.
Fast Company's previous report suggested there is a "sense of panic" in the air at Apple as engineers and designers struggle to work out software problems with wireless charging and the 3D sensors meant for the device. The site also said Touch ID was "likely" to be included in the iPhone 8, despite multiple rumors suggesting it's been removed in favor of facial recognition.