iOS 11 Tidbits: Customizable Control Center, One-Handed Keyboard, Type to Siri and More
iOS 11 introduces a huge number of major changes to the operating system, ranging from a redesigned Control Center experience to a host of new features specific to the iPad, but along with all of these major changes, outlined in our iOS 11 announcement post, there are also dozens of smaller changes that have been added to the beta.
Below, we've outlined some of the smaller but still significant tweaks that went unmentioned during Apple's whirlwind keynote announcement.
- Lock Screen - The Lock screen has a new look with a bolder font for the passcode numbers and lighter circles that don't feature a white outline.
- One-handed keyboard - On the iPhone, there's a new option for a one-sided keyboard that can be enabled by pressing down on the globe keyboard button. It moves the keyboard to either the left or right side of the device.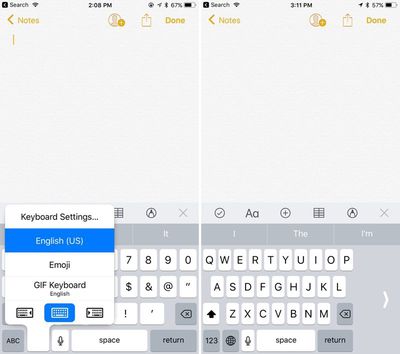 - Type to Siri - There's an Accessibility feature that enables Type to Siri. With this option toggled on, when Siri is accessed via a Home button press, it brings up a keyboard where you can type something to Siri.


- iPad keyboard changes - On the iPad, symbols and numbers accessible via the shift key are visible on the keys themselves. The alternate symbols and numbers are accessed by pulling down on the key and releasing.




- Customizable Control Center - Apple showed off the new single-page revamped Control Center on stage during the keynote, but what wasn't mentioned is that the Control Center is customizable. Users can select what's displayed in Control Center using the Settings app, and there are a huge range of options including Low Power Mode, Notes, Text Size, Wallet, Screen Recording, and more. There's even a new option to add Apple TV Remote controls to Control Center. Layout can't be changed, though.


- Offload Unused Apps - In the Settings app, there's a new option that will automatically uninstall apps that haven't been used in a while. Documents and data for uninstalled apps will remain available in case the app is re-installed.
- Bolder text - Throughout the operating system, there are bolder text labels and starker, bolder looks for many apps like Phone, Contacts, and FaceTime. Many apps have received design changes ranging from subtle to more significant, such as the revamped Calculator app.


- Unified Siri and search settings - In the Settings app, there's now a single tab for Siri and Search, which is a more logical layout. There are also options for toggling on Siri suggestions for each individual app that's downloaded on a device.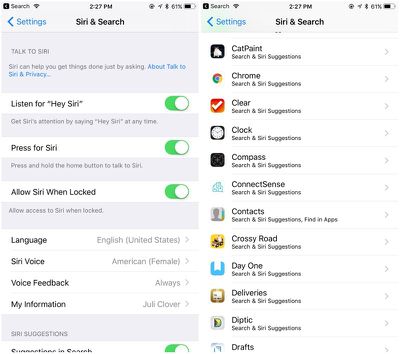 - Revamped storage management - The "Storage and iCloud Usage" tab is now just "iPhone Storage" and it features at at-a-glance view of the storage space available on a device along with recommendations for improving storage space like auto deleting old conversations, clearing large Messages attachments, and storing Messages in iCloud, a new feature that syncs Messages across all of your devices.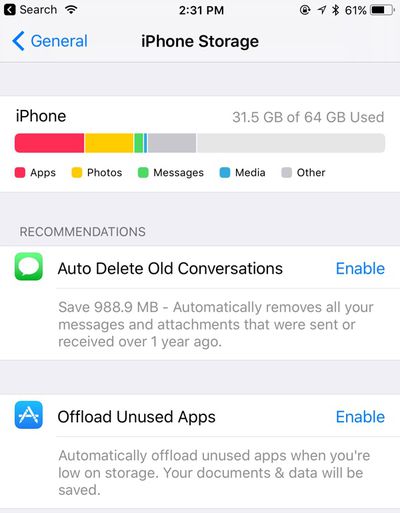 - Accounts and passwords - There's a new "Accounts & Passwords" section in Settings that provides access to all iCloud and Mail accounts along with app and website passwords stored in Keychain, accessible only after authenticating with Touch ID. Passwords are also available in the Safari section of the Settings app.
- Safari Settings - Additional privacy options are available for Safari in the Settings app. There's an option to "Try to Prevent Cross-Site Tracking," a new iOS 11 feature, and there are options for Camera and Microphone Access.
- Emergency SOS - There's an Emergency SOS option in the Settings app that allows users to turn on an "Auto Call" feature that will immediately dial 911 when the Sleep/Wake button is pressed five times.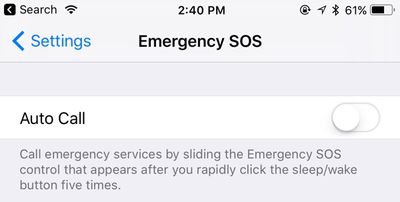 - Drag and drop - Drag and Drop was announced as an iPad feature, but in apps like Files, drag and drop is available for moving files around on the iPhone. Drag and Drop is a feature that's limited to use within apps on the iPhone and it isn't system-wide like on the iPad.
- Camera QR code scanning - The Camera app automatically detects QR codes and will respond appropriately, doing things like opening up Safari to a specific website.
- Password Autofill - Password autofilling options are now available for third-party apps.
- AirPods settings - AirPods can now be customized with separate double tap gestures for the left and right AirPod. One can be set to access Siri, for example, while another can be set to play the next track. In iOS 10, double tap settings are applied to both AirPods.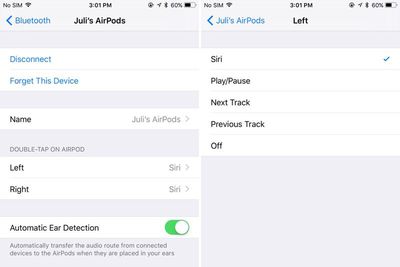 - Auto-pausing for uploads - Photo syncing and other such updates are automatically paused in iOS 11 when battery life is low.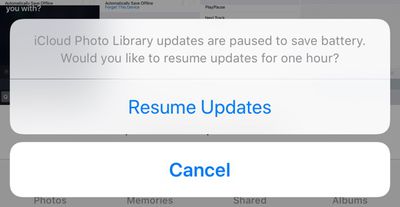 - Automatic setup - When setting up a new iOS device, there's now an option to hold it near an existing device to automatically copy over settings, preferences, and iCloud Keychain.
- Screen recording - There's a Control Center option that will automatically capture a screen recording of what you're doing on an iPhone or iPad.
- Smart Invert - In the Accessibility section of the Settings app, under Accessibility > Display Accommodations > Invert Colors, there's a new option for "Smart Invert." Smart Invert reverses the colors of the display except for images, media, and some apps. It's quite similar to the Dark Mode that users have been hoping for, but it doesn't extend to all UI elements.
- GIFs In the Photos app, GIFs saved in the Camera roll now animate when opened. In the main album view, they are still, but will work properly when tapped.
There are many, many more undocumented tweaks and changes in iOS 11, and additional features will be added and updated throughout the beta testing process. For now, iOS 11 is limited to developers, but Apple plans to make a version available for public beta testers in late June.
Devices compatible with iOS 11 include the iPhone 5s, SE, 6 Plus, 6, 6s Plus, 6s, 7 Plus, and 7, along with the new fifth-generation iPad, the iPad Air, the iPad Air 2, all iPad Pro models, and the iPad mini 2 and later. iOS 11 essentially works with all devices that include an A7 or newer chip.