iMac and MacBook Early Reviews: Iterative Updates With Welcome Performance Boosts
At the WWDC keynote on Monday, Apple announced a collection of hardware refreshes for the MacBook, MacBook Pro, and iMac, which users are already able to order on Apple.com. Across the line of Macs, Apple added faster Kaby Lake processors, faster SSD options, made a Fusion Drive standard in the iMac, introduced more maximum RAM in the iMac, and improved GPUs.
Now, the company has allowed members of the press to test out both the MacBook and iMac refreshes to see how the computers stack up in comparison to the previous generation, as well as to Apple's competition. Below we'll round up opinions on the MacBook, 21.5-inch iMac, and 27-inch iMac. As many sites noted, first impressions and reviews for the all-new iMac Pro aren't expected to arrive until later in the year, ahead of the computer's December launch.

12-inch MacBook
Apple sent reviewers the base 1.2GHz Core m3 model ($1,299) of the new 12-inch MacBook, and CNET came away largely impressed by the slightly beefed up machine. The site noted that the biggest and most welcome addition was found in the new and improved keyboard with a second generation butterfly mechanism, which has been adopted from the same keyboard on the MacBook Pro line from last year.

Now the 12-inch MacBook has adopted that improved second-gen butterfly mechanism from the Pro line. Even using it in just a few initial typing sessions, I can totally tell the difference -- there's a click and spring to the keyboard that was lacking before. As someone who has typed hundreds of thousands of words across both previous generations of the 12-inch MacBook, I'm very pleasantly surprised by how good this keyboard feels.
Otherwise, CNET liked the default Intel Core m3 CPU in the MacBook, which remains fine for activities like web browsing and streaming video but still lacks any sort of power needed for heavy multitasking or high-end video editing. Upgraded configurations of the MacBook are available with 1.3GHz dual-core Intel Core i5 ($1,599) and dual-core Core i7 ($1,749), along with available RAM bumps from 8GB to 16GB ($200), but Apple has kept review units focused on the base tier. All versions retain the MacBook's slim 2.03lb body and Retina display.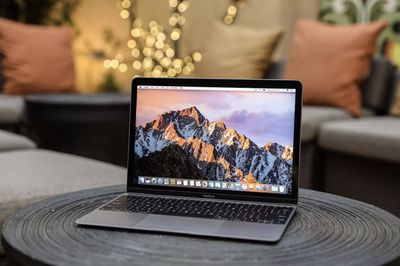 Image via CNET
Both
The Verge
and
CNET
noted that power users will remain disappointed with the MacBook, which still only has one USB-C port. But for everyday tasks and low-power activities, anyone who can get over the port and power limitations should still find a lot of usage out of the 12-inch MacBook in its third generation.
The Verge:
The big question a lot of people are asking is whether the little MacBook is finally over that power hump that's kept users from switching over to it. I sadly cannot answer that for you, but my hunch is that the basic calculus isn't going to change. If you need speed, get a MacBook Pro or a Windows PC or maybe even a MacBook Air.
CNET:
The improved keyboard and the faster CPU options feel like a real step forward, although the system is still not quite as updated as we'd like.

You're still stuck with the same not-great 480p webcam, and there's just that single USB-C port for all your power and connectivity needs, which will be a deal-breaker for many. But if you can work with those limitations, this is the best version of the 12-inch MacBook yet.
21.5-inch and 27-inch iMac
For the refreshed iMacs, Apple sent out the top-of-the-line 4K stock configuration of the 21.5-inch iMac, with a 3.4GHz Core i5 processor, 8GB of RAM, and a 4GB Radeon Pro 560 GPU ($1,499). Engadget noted the slight speed advantage over previous generation iMacs when launching apps like Slack and Chrome, and called the inclusion of Apple's Fusion Drive "both overdue and still not enough," particularly on iMacs with 4K and 5K Retina displays.


Additionally, Engadget appreciated the ultra-bright 500 nits display, two Thunderbolt 3 ports (which support USB-C), and Magic Keyboard with number pad (a $30 cost addition in the configuration screen). Otherwise, the site noted that users can expect the same aluminum design on the refreshed iMacs, and categorized the 21.5-inch iMac, particularly the lower-end configuration ($1,099), as a sweet spot for mainstream users who require a reliable machine.

Really, it's only mainstream consumers and creative types with more-limited needs (or means) who can safely buy an all-in-one now. But for their purposes, I have no doubt that the iMac offers more generous specs than before for the money.
The Verge tested the new 27-inch iMac with an Intel Core i7 4.2 GHz chip, 500GB of SSD storage, and 16GB of RAM ($2,899), and said that the difference between previous generation iMacs -- in regards to editing 4K video and large photo files -- was "instantly evident."

The Verge wished that the iMac's screen was slightly less reflective
To put the high-end iMac through its paces, the site described an editing test that used Adobe Premiere Pro CC 2017 with previews on max render quality, no external SSD support, with After Effects and Lightroom open at the same time, as well as about 15 Safari tabs. After all of this,
The Verge
still described the editing process as a "joy" and said that it was "flawless."
That said, editing photos on this computer was a joy. The processing speed and accurate colors also helped, making it a fun experience. Seeing the changes happen almost instantaneously helped accelerate the editing process, but it also just made me experiment with photos more, which for a creative type does make a difference. It's worth nothing I haven't calibrated the monitor and have used the default color space "iMac," which I'm assuming most of you will use anyway, and you won't regret it.
Mashable tested out the lower-specced 27-inch iMac model with an Intel Core i5 3.4 GHz chip and 8GB of DDR4 RAM ($1,799), and appreciated the richer colors and added brightness of the new display, stating that on the screen, "images move a giant step closer to reality." One design difference Mashable noted was a change to the Shift key on the new Magic Keyboard with number pad, which led to a few accidental single quote key presses. Still, small gripes like that didn't hurt the site's overall opinion of the computer.

What matters is day-to-day performance on critical tasks in demanding apps like Photoshop, AutoCAD, and Strata 3D. Based on the numbers I saw and even my minute-to-minute experiences with the 27-inch iMac, I'd say it will handle all those jobs with ease.

I did a bunch of other, more mundane tasks on the system, like Safari browsing, email, photo manipulation, and uploading. There were no issues and everything worked as it did before.
With the first batch of iMac, MacBook, and MacBook Pro orders expected to arrive as soon as later this week or early next week, more opinions on the newly refreshed computers should be shared online in the coming days. For more impressions on Apple's just-announced products, check out a roundup of opinions regarding Apple's new smart speaker HomePod.