HomePod First Listen Impressions: 'Incredible' Audio With Bass-Heavy Sound That Easily Beats Echo
Following an unveiling at WWDC yesterday, Apple let members of the press get a close-up look at its new Siri-enabled speaker, HomePod, but due to the loudness of the area it was impossible for WWDC attendees to really determine HomePod's sound quality. Now, a few websites have gotten the chance to hear how HomePod sounds in a normal environment, and shared their opinions of the device online.
According to Mashable, Apple played listeners five songs across four genres and the device had "very good audio." The HomePod starts up by playing 360-degree audio to itself so it can learn the space it's in, and then adjusts any subsequent music that's played with the knowledge of the size of the room.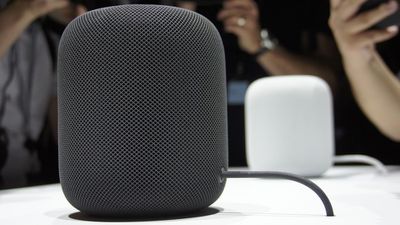 HomePod requires constant AC power for music playback
Mashable
said this worked, and "no matter where I walked in the small listening room, the sound was consistent."
The audio wasn't just loud — filling a room with sound, good or bad, is easy — it was rich. The highs were sharp, but not broken. The lows were deep, sonorous, but not chest-thumping.

A classic song with a far less complex mix sounded warm and true and one of Kendrick Lamar's beat-heavy tunes showed off the HomePod's bass prowess, I also listened to a live recording of the Eagles' Hotel California on a pair of HomePods. I noticed that the audience cheers primarily came from one speaker, along with some ambient music sounds and the mains came from the HomePod almost directly in front of me. I did not feel like I was at the live concert, but I was still impressed with the audio quality.
Mashable noted that Apple had in-room comparisons with its competitors, including Sonos Play:3 and Amazon Echo, and that the HomePod easily beat the two other speakers in pure music playback quality. The site noted the disadvantages users face if they don't use Apple Music, and was unsure how any of the smart home controls would work as press was only allowed access to non-functional demo units, but was ultimately left impressed with HomePod, calling it a "very good speaker" and looking forward to testing it more as December grows nearer.

CNET heard the same five songs, including "The Greatest" by Sia, "Sunrise" by Norah Jones, "Superstition" by Stevie Wonder, "DNA" by Kendrick Lamar and a live performance of The Eagles' "Hotel California." The site said that HomePod's audio was "bolder and more vivid" than Sonos Play:3, and in general "a lot better than Amazon Echo." CNET was also impressed how HomePod can separate vocals from ambient, instrument-based sounds, and how two HomePods in one room can recognize one another and automatically adjust playback for the best spatial sound output.

HomePod came off as bolder and more vivid than Sonos Play:3 in the experience I tried, and a lot better than Amazon Echo. I'd also say the music sounded consistently vivid and crisp in a quiet space, more so than the Sonos and Amazon comparisons on-hand. But the one thing I didn't get to experience was how HomePod can listen, talk and suggest things. I couldn't request music, or ask for the weather, or try any smart controls.

It's hard to tell what any of this means right now, and a full review of the final product is the only way to determine any real meaningful thoughts on HomePod-as-home-audio-device. But, right out of the gate, Apple is clearly going for music over smart assistance as HomePod's major draw. But as the most expensive speaker of the three -- it costs almost double the price of the Echo -- its superior sound quality is to be expected. It needs to earn that bigger price tag.
In the controlled demo environment, What HiFi? noted the HomePod's strong bass and crisp vocals on Sia's "The Greatest," which made the Echo "almost pedestrian" in comparison. Even with TruePlay calibration on Sonos Play:3, the Sonos speakers "appeared uncharacteristically flat" versus HomePod. The site did note that throughout the session songs felt more bass-heavy than some of the other speakers in comparison, and it remains unclear if Apple will allow users to tweak audio playback in some way.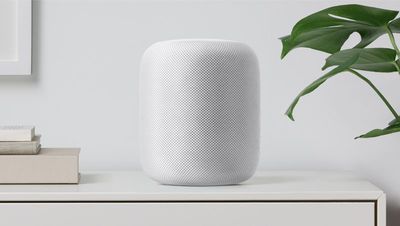 As Sia's The Greatest played out, the HomePod sounded impressive: strong bass rang out – which was perhaps the overriding audio takeaway for the speaker – but the vocals still seemed sharp and crisp. In comparison, the Sonos Play:3 appeared uncharacteristically flat, while the Amazon Echo felt almost pedestrian.

We also heard a pair of HomePods playing a live recording of Hotel California by The Eagles. The attention to detail was striking, with different instruments sounding discretely realised. Did we feel like we were at the concert? Maybe not, but it did sound powerful.
Engadget called HomePod's audio "incredible," and compared to both rivals in the demo area, "it blew them both out of the water."

The HomePod however, sounded crisp and bright no matter the musical genre fed through it -- it rendered The Eagles as well it did Kendrick Lamar. As a reminder, there's a huge woofer and seven tweeters inside, all meant to make audio sound as vivid as possible no matter where you are in a room.

And the Echo? Well, I'll put it this way: if listening to the HomePod was like listening to a CD, then audio through the Echo sounded like AM radio. In my experience it's excellent for audiobooks, but if given the choice, I'd rather have the HomePod pump out my jams.

It'll be a while before the HomePod official goes on sale, but right now it has one clear edge over the competition: it's just a killer speaker.
The takeaway from most first impressions of Apple's HomePod appears to be that it easily beats the competition offered up in the demo, but as many sites noted, that's an expected outcome. We'll still have to wait until closer to the HomePod's holiday launch in December to see more true-to-life audio tests, how voice controls work with Siri, and how successful the intelligent assistant is at performing tasks within Apple's new smart speaker system.
For more HomePod impressions, check out these sites: BBC, The Verge, Business Insider, Pocket-lint