In addition to expanding its retail footprint in China over the past few years, Apple is moving ahead with new stores in other countries.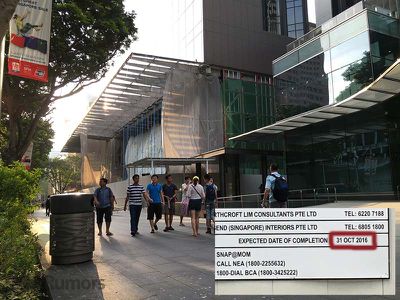 Photos obtained by MacRumors from reader Myles today reveal progress on Apple's first retail store in Singapore, a location that has been confirmed by Apple since November 2015 and under renovation since earlier this year. Construction of the store's glass facade and canopy is now well underway.
The project allegedly has an expected completion date of October 31, 2016, suggesting that the store could open as early as November.
Additional photos sent to MacRumors by reader Rodrigo show an Apple-like large, black construction barrier at Mexico City's Via Santa Fe, an upscale wing of Centro Santa Fe, the largest shopping mall in Latin America. The store will be located on the upper level of the shopping mall and is likely in the early stages of renovations.


In January, an anonymous tipster said Apple is planning a major retail expansion in Latin America, starting with stores in the Mexican cities of Mexico City, Guadalajara, and Monterrey. The tipster said Apple will subsequently open its first retail stores in the countries of Chile, Peru, and Argentina.