Apple's Plans for Upcoming Siri Speaker Remain Unclear in Regard to Display
With Amazon having launched the Echo Show, a new Alexa-enabled smart speaker that comes equipped with a 7-inch screen, Bloomberg has shared a little tidbit on Apple's own speaker plans, making it clear that there's still no concrete information on whether Apple's speaker will include a display.
In a piece outlining Amazon's new speaker, Bloomberg references a comment made recently by Apple marketing chief Phil Schiller, where he said that a voice assistant in a device without a screen doesn't "suit many situations."
While marketing chief Phil Schiller recently talked up the benefits of having a screen on a voice-activated device, it's not clear whether the Apple version will in fact have one.
Rumors of Apple's work on some kind of in-home Siri-based smart speaker to compete with the Amazon Echo first surfaced in early 2016, but while the speaker is said to be close to launching, details remain scant.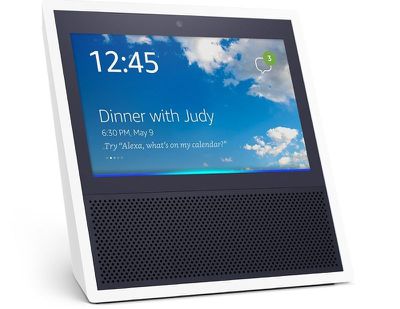 The new Amazon Echo Show


We've heard it will feature Siri integration and focus heavily on sound quality, with "excellent acoustics performance" and some form of Beats technology. Design details shared in late April said it would feature a Mac Pro-style concave top with built-in controls and a "fat" body with speaker mesh covering the majority of the device, but no display was mentioned.
KGI Securities analyst Ming-Chi Kuo has said the speaker has a 50 percent chance of debuting at Apple's Worldwide Developers Conference coming in June, and as Bloomberg first mentioned in September (and reiterates again today) the speaker is currently being tested within the homes of Apple employees, so it may not be long before we have more concrete details about the device.
Based on today's Bloomberg report, Apple's speaker will have one benefit over the Amazon Echo and Google Home - native Apple Music integration. Amazon devices chief Dave Limp told Bloomberg that while Amazon would "love to have Apple" the company is "not super big" on allowing Apple Music integration.
For more details on Apple's upcoming Siri speaker, make sure to check out our dedicated roundup, which aggregates all of the information we've heard about the device so far. More information about Amazon's Echo Show can be found in our launch article.