'iPhone 8' Production on Schedule for September Launch, October Sales
Apple will begin selling its new range of iPhones in October this year following a September unveiling, according to a report out on Monday. Previous rumors have claimed that Apple will struggle to meet its usual fall launch timeframe for its upcoming OLED iPhone, which is set to debut alongside two more typical LCD models, with several sources claiming the "tenth anniversary" phone faces a possible delay late into the fourth quarter because of production yield rate issues.
Japanese site Mac Otakara earlier this year suggested the "iPhone 8" would launch "very much" behind the LCD models, while KGI Securities analyst Ming-Chi Kuo believes Apple will debut the OLED iPhone in September, but the device will face "severe supply shortages" until as late as October-November, two months later than previous ramp-ups in August-September. Similar delayed production rumors have been circulated by analysts and media outlets in recent months.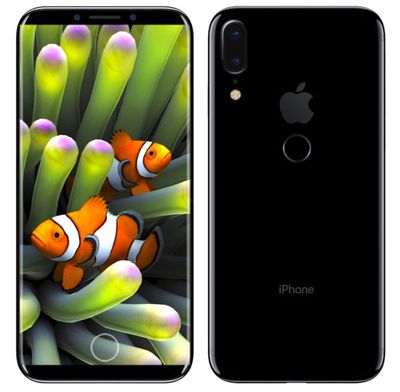 In contrast, the Chinese-language Economic Daily News claimed on Monday that there will be no delay for the launch of the next-generation phones, signaling the usual ramp-up in the production of parts related to the iPhone beginning next month.

Upstream to downstream suppliers in the iPhone supply chains, including Taiwan Semiconductor Manufacturing Company (TSMC), SLP (substrate-like PCB) makers Zhen Ding Technology and Kinsus Interconnect Technology, and battery supplier Simplo Technology, are ready to ramp up related iPhone parts starting June.

TSMC will begin to fabricate the wafer starts needed for the production of A11 processors on June 10 and to deliver the chips in volume quantity in the second half of July, the report indicated.
Both Zhen Ding and Kinsus have reportedly managed to improve the yield rates of SLP products which will allow for volume production of the materials in June. Meanwhile, iPhone assemblers Foxconn, Winston, and Pegatron are said to be accelerating the recruitment and training of new workers in China in preparation of mass production of the new iPhone.
Apple has a major redesign planned for the "iPhone 8", with a glass body and edge-to-edge OLED display that may include an integrated Touch ID fingerprint sensor if the company can overcome the technical challenges involved. Other potential features include wireless charging, a vertically oriented rear dual-lens camera, and a front-facing camera with 3D sensing and facial recognition capabilities. The OLED iPhone is expected to be sold alongside upgraded (but standard) 4.7 and 5.5-inch iPhones.
(Via DigiTimes.)