Apple CEO Tim Cook to Speak With Jim Cramer on CNBC's Mad Money Tonight
Apple CEO Tim Cook will appear on CNBC's Mad Money this evening, where he will speak with host Jim Cramer. According to a tweet from the Mad Money Twitter account, Cook will talk about the future of Apple, China, iPhone sales, and more while on the show.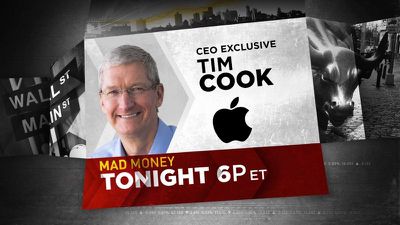 Cook has made an interview with Jim Cramer an annual affair, having appeared on the show in
March of 2015
and
May of 2016
. Last year, Cook spoke about Apple's revenue decline, acquisitions, the company's future plans, and China.
Mad Money will air at 6:00 p.m. Eastern Time or 3:00 p.m. Pacific Time.