Apple CEO Tim Cook to Speak With Jim Cramer on CNBC's 'Mad Money' Tonight
Apple CEO Tim Cook will appear on CNBC's Mad Money this evening, where he will speak with host Jim Cramer. On the show, Cook is expected to discuss Apple's future in China, his outlook on innovation, what's next for the iPhone, Apple Watch, and Apple services, and whether Apple is pursuing any potential acquisitions.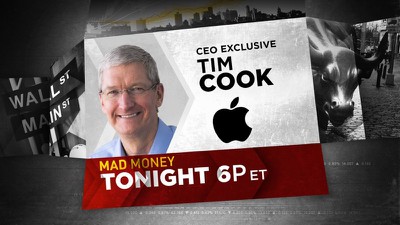 GUESS WHO'S BACK? The man behind the BIG Apple CEO @tim_cook, is here for an exclusive with @JimCramer tonight! pic.twitter.com/ve5VrWPB91 — Mad Money On CNBC (@MadMoneyOnCNBC) May 2, 2016
Cook last spoke with Cramer
in March of 2015
, where he discussed topics like ResearchKit, health, and the "next frontiers" of development.
Mad Money will air at 6 p.m. Eastern Time.