Tim Cook Calls Jim Cramer on 'Mad Money', Talks About Health, ResearchKit and More
Apple CEO Tim Cook called into "Mad Money" on CNBC today to speak to host Jim Cramer in honor of the show's 10th anniversary, where he shared some thoughts on ResearchKit, Apple's competitors, Apple Pay, the next frontiers of product development, and more.
When asked what he believes the "next frontiers" will be when it comes to product development, Tim Cook highlighted health as "the biggest one of all," along with cars and the home. According to Cook, devices like the Apple Watch and services like ResearchKit and the Health app that allow people to track their own health and fitness are part of a market that's "probably significantly underestimated."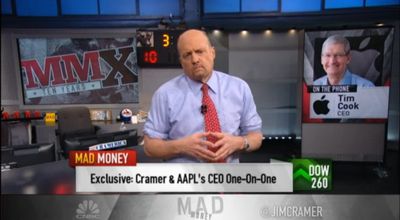 Cook called ResearchKit, which the company debuted on Monday, "an absolute game changer." ResearchKit is an open source software framework aimed at researchers, and several apps have already been created with it. On Wednesday, two days after the first apps were available, Stanford University researchers said they had received 11,000 signups for just one of them.
In regard to the Apple Watch and HealthKit, Cramer asked whether it was "within the realm of our lifetime" that the device paired with HealthKit might be able to monitor diabetes, blood pressure, and detect cancer, and Tim Cook said "Oh, I absolutely do."
On competition, when Cramer asked whether or not Apple felt like the competition had been left behind, Cook said the company is "always paranoid" and always working towards the best possible product.
We're always paranoid. We live paranoid. We always want the very best product. And so if we're not beating someone else we're trying to beat the thing that we have currently shipping.

Everybody here lives on edge.
As he often does, Cook spoke about Steve Jobs, reiterating that Jobs' DNA is "deep in the company" even though many of the products that Apple is shipping now were created entirely on Tim's watch, conceptualized after Jobs had passed away. Cook wrapped up the call by wishing an excited Cramer a happy anniversary.
Cook's segment aired on "Mad Money" on CNBC at 6PM Eastern Time.