Apple Employees to Celebrate Earth Day With Green Shirts Starting April 20
In honor of Earth Day, which takes place on Saturday, April 22, Apple employees will transition from their standard blue shirts to green Earth Day shirts starting on Thursday, April 20.
Apple also celebrates Earth Day by updating the logos on its retail stores around the world, adding a green leaf accent to the traditional white Apple. Earth Day represents one of the few days a year Apple alters its logo.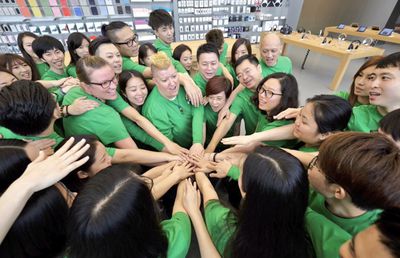 Apple often uses Earth Day as a way to highlight its environmental efforts and reaffirm its commitment to recycling, renewable energy, and other initiatives. According to a recent interview with Apple's VP of Environment, Policy, and Social Initiatives Lisa Jackson, 96 percent of the energy Apple uses around the world now comes from renewable sources like wind and solar.
Last year, Apple released a host of earth-inspired Apple Music playlists, launched a "Siri and Liam" ad outlining its recycling practices, and launched an "Apps for Earth" promotion, with proceeds donated to the World Wildlife Fund. Similar promotions could take place this year, with announcements coming this week ahead of April 22.