Apple Says Stock 8-Core Mac Pro Available to Resellers by End of April, Suggests Custom Configuring Until Then
Apple has informed its authorized resellers that the Mac Pro's new 8-core stock configuration will be available to order by the end of April. Until then, Apple said the model can be created by selecting the 6-core option and using the configure-to-order options to match the 8-core model's upgraded tech specs.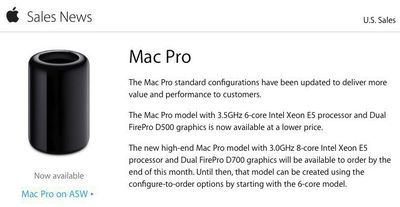 Packaging changes are likely the only reason why the 8-core model is currently unavailable as a stock configuration to resellers and customers, given that the base model customized with an 8-core processor and dual AMD FirePro D700 GPUs for the same price currently ships in 1-3 business days on Apple.com.
Apple adjusted its Mac Pro configurations and pricing yesterday. The former 6-core model with dual AMD FirePro D500 GPUs and 16GB of RAM for $3,999 is now the $2,999 base model, while the previously configure-to-order 8-core model with dual D700 GPUs and 16GB of RAM is now the high-end stock configuration for $3,999.
Apple listed the new Mac Pro configurations on its online store on Tuesday, but the 8-core model is currently unavailable for customers to order. Apple's website briefly said the 8-core model would be available in "30 business days," somewhat in line with the end of April, but that estimate was quickly removed.
Apple has discontinued the previous base model, equipped with a quad-core Xeon E5 processor, dual AMD FirePro D300 GPUs, and 12GB of RAM.
The bigger news is that Apple said it is working on a "completely rethought" Mac Pro featuring a modular design. The all-new Mac Pro, which won't launch until at least next year, will be Apple's highest-end, highest-throughput system, and it will be accompanied by a new Apple-branded pro-focused external display.
Apple also said that it is working on new iMac models that will be unveiled later this year, but it remained tight-lipped about what to expect. It is rare for Apple to pre-announce future products in this manner, but it was a welcomed response to concerns that Apple was no longer focused on professional users.
Given that the current Mac Pro still has over three year old hardware, prospective buyers should weigh the price drop against the old tech before purchasing the computer. Some professionals might consider waiting for the completely redesigned and modular Mac Pro launching at some point after 2017.
(Thanks, Holden!)