Apple Store Set to Open at Dubai Mall as Burlingame, Palm Beach, and LA Area Stores Close for Renovations
Apple today announced that it will be opening its second retail location in Dubai, the most populous city in the United Arab Emirates.

We're getting ready for our newest store in UAE by celebrating local artists and entrepreneurs. Excited for Apple Dubai Mall! pic.twitter.com/SIT4FeDr1x — Angela Ahrendts (@AngelaAhrendts) April 4, 2017
The store will be located at The Dubai Mall in downtown Dubai, opposite the Burj Khalifa, the tallest structure in the world. As we reported in February, the store will be
split into two floors
inside the shopping mall. Apple said the grand opening will be "soon," but it did not provide a specific date or time.
Apple is celebrating the upcoming grand opening with an artistic display on its website and on the construction barrier covering the storefront.
Meanwhile, in the United States, Apple continues to renovate a number of its older stores with its newer retail design introduced in 2015.
Apple has announced that its stores in Burlingame, California and Canoga Park in Los Angeles temporarily closed for renovations on Sunday. Apple also temporarily closed its store at The Gardens Mall in Palm Beach Gardens, Florida on March 25 for renovations. All three stores will likely reopen by the end of the year.
Apple also announced that its current North Point Mall store in Alpharetta, Georgia will be closing and relocating to Avalon, a new mixed-use development in the Atlanta suburb. The grand opening is April 13 at 10:00 a.m. local time.
Elsewhere, construction continues for Apple's upcoming flagship store near the historic Michigan Avenue Bridge in downtown Chicago.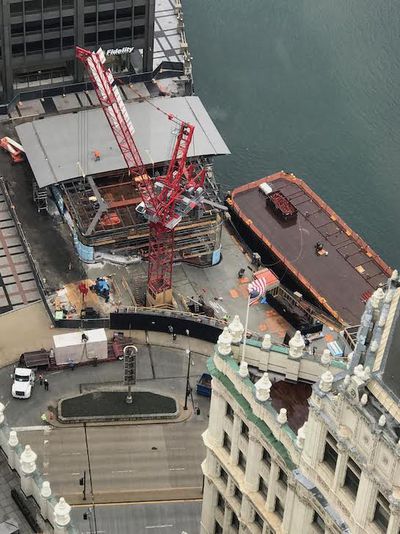 Roof panels for the Chicago River store arrived on a barge (Thanks, Steve!)
The store will include a "grand flight of stairs" going from street level to a walkway alongside the Chicago River's north bank. At street level, the store will have an entry pavilion that's 14-feet high. Pedestrians entering from North Michigan Avenue can reach the sales floor by stairs or elevator.
MacRumors has also received a tip from reader David about Apple possibly expanding its retail store at the Providence Place shopping mall in Providence, Rhode Island. David sent us a photo of what appears to be Apple's typical black construction barrier taking up four units on the lower level of the Macy's wing of the mall.
The tipster said he confirmed with multiple employees that the construction is indeed for a new Apple Store in the mall, which will replace its much smaller one down the hall. The tipster has heard that Apple is aiming to complete construction by June, and the store will likely open at some point in the summer.

Apple-like construction barrier at the Providence Place shopping mall
Apple's newer retail layout often includes wider open spaces with some combination of large glass doors, touch-sensitive sequoia wood tables and shelves, seating areas for community events, large 6K resolution video screens, indoor trees, and light boxes extending the length of the ceiling.
Apple is similarly expanding its retail stores at Danbury Fair Mall in Danbury, Connecticut and Woodland Mall in Grand Rapids, Michigan.
Update: Apple is also putting the finishes touches on its first store in Singapore, expected to open at some point in the next few months.