Renderings Show Off Apple's New Retail Store Alongside Chicago River
The Chicago Tribune has obtained an exclusive first look at Apple's planned new flagship store in Chicago, which will be placed alongside the Chicago River. The new store will "echo" legendary architect Frank Lloyd Wright's Prairie Style homes, which Wright pioneered near the city.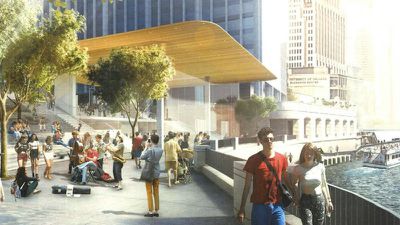 The store will be located near the historic Michigan Bridge and include a "grand flight of stairs" that will go from street-level to a walkway alongside the Chicago River's north bank. On the street-level side, the store will have an entry pavilion that's 14-feet high. Pedestrians entering from N. Michigan Avenue will have to proceed downward onto the sales floor via stairs or an elevator.
The new flagship will have glass walls with a thin, high-strength carbon fiber roof. The 20,000 square-foot store will replace a vacant food court, and an Apple spokesman confirmed to the Chicago Tribune that it wants to start construction next year. The Tribune notes that the new store could be a "boon for the neighborhood", shifting retail focus on Michigan Avenue further south and encouraging development of future architectural projects in the area.


The store is being headed by Norman Foster of Foster + Partners, Apple's frequent architectural partner and the firm in charge of its new Cupertino headquarters. Apple is scheduled to present a proposal on the new store to the Chicago Plan Commission on Thursday, but a department spokesman told the Tribune that the presentation is a formality as the planning department has already approved the proposal. Additionally, Apple already has a deal in place with Zeller Realty Group, the owner of the territory the new Apple Store will reside on.
Apple's current flagship store in Chicago is the four-story North Michigan Avenue store, which it has occupied since 2003. According to the Tribune, the new flagship could give Apple greater visibility in the area and higher sales. More renderings of the new store can be seen at the Chicago Tribune's website.