Apple recently announced that its Danbury Fair Mall store in Danbury, Connecticut has temporarily closed, presumably to become one of the company's latest retail locations to be updated with a next-generation design. A temporary store has opened directly behind the existing store during the renovations.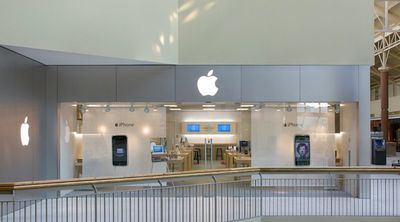 A second-level floor plan [PDF] for the shopping mall shows a large amount of space listed as "available" behind the store, separated into three units, so it is possible the existing Apple Store could expand into at least one or two of the units. One of the units is likely occupied by the temporary location presently.


Following this report, Apple analyst Neil Cybart of Above Avalon told us that he believes the Danbury store will undergo a "very big expansion" into neighboring unit C220, which appears to have been vacated by apparel retailer New York & Company. He said the temporary location takes up a portion of unit C223.
@rsgnl Was at Danbury store yesterday. Looks like new store will be C221 + C220 (very big expansion). Pop-up store is portion of C223. — Neil Cybart (@neilcybart) February 6, 2017
Apple has opened or renovated a number of retail stores with next-generation designs since 2015, including locations in Brussels, Cupertino, Dubai, London, Memphis, New York, San Francisco, and elsewhere.
The new look often includes wide, open spaces with some combination of indoor trees, large glass doors, touch-sensitive sequoia wood tables and shelves, seating areas, large 6K resolution video screens for product marketing and community events, and light boxes extending the length of the ceiling.
Meanwhile, Apple CFO Luca Maestri recently confirmed that Apple will soon open a second store in Dubai. Last month, tipster Mutaab A. sent us a photo of what appears to be Apple's typical black construction barrier at Dubai Mall in downtown Dubai.


Based on the photo, it appears the store could span two floors. The tipster told us the location will have the "best view" of the Burj Khalifa and The Dubai Fountain from outside-facing windows in the store. A construction worker allegedly informed the tipster that the store will be ready to open by March.