Apple's Stock Soars Past $1,000 Pre-Split Price as Bulls Think 'Golden Opportunity' to Buy Remains
AAPL rose over two percent on Tuesday to close at $143.80, a new all-time high. The stock also surpassed a per-share price of $1,000 when adjusted for Apple's 7-for-1 stock split in June 2014. Apple now has a market valuation of over $750 billion on its path towards becoming the world's first trillion dollar company.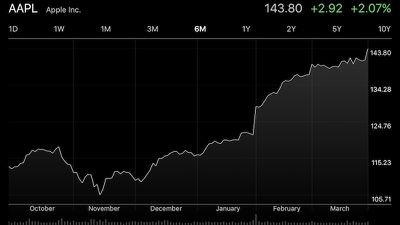 The milestone comes as longtime Apple analyst turned venture capitalist Gene Munster told CNBC that now remains a "golden opportunity" to buy Apple stock. Munster's new firm Loup Ventures has a $180 to $200 price range for AAPL, and he expects "clear sailing" for Apple investors in the months ahead.
Apple analyst Brian White of brokerage firm Drexel Hamilton maintained his "buy" rating for AAPL today, with a price target of $185. He continues to believe that Apple remains "among the most underappreciated stocks in the world" and that "Apple has Samsung on the ropes like never before in recent memory."
An excerpt from White's latest research note obtained by MacRumors:
With Apple operating on all cylinders and a strong iPhone launch expected this fall, combined with the rise of more China-based competitors, we believe the pressure is on Samsung to deliver a strong upgrade without any missteps. We believe if Samsung stumbles again, the company's position in the smartphone market could be permanently impaired.
Apple analyst Steven Milunovich of investment bank UBS has maintained his "buy" rating for AAPL as well, with a price target of $151 set in late February. In a bullish scenario where Apple has "caught the next major trend," he believes the stock's price could reach $200 within the next two years or so.
Apple is widely expected to benefit from another "supercycle" of iPhone upgrades this year, given a "larger than ever" base of existing customers with an iPhone 6 or older device. Apple's stock price has also been fueled by excitement surrounding a rumored 5.8-inch iPhone with an edge-to-edge OLED display.
Update: AAPL closed at $144.12 on Wednesday, setting yet another all-time high.