Payments company Square today announced that it has officially launched within the United Kingdom, bringing its popular Square Reader to small and medium businesses within the UK Square's UK debut marks the company's first European launch, but its products are already available in the United States, Canada, Japan, and Australia.
In the UK, the Square Reader will cost businesses £39, and will act just as it does in other territories by connecting to a mobile smartphone or tablet, turning the device into a payment receptacle through the use of mobile wallets or physical credit cards. Every transaction that occurs in person will have a 1.75 percent flat fee charged to businesses, while all online, telephone, and electronic invoice transactions will incur a 2.5 percent fee.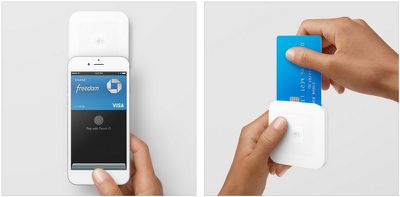 After it's set up, businesses will be able to browse the Square software built for mobile devices to track real-time sales data, invoicing and digital receipts. In its announcement today, Square said that the UK is a prime target for its technology because the average UK adult carries less than £25 in cash, while 70 percent of UK shoppers prefer card payments. Despite these statistics, "half of the UK's 5.4 million small businesses do not yet take card payments."

"We founded Square to empower small businesses with tools to accept all forms of payment and to make a sale anytime, anywhere," said Jack Dorsey, CEO of Square. "We look forward to working alongside the millions of entrepreneurs and thriving small and medium-sized businesses across the UK, especially those who do not yet take card payments."
In the United States Square has been a partner with Apple over the past few years, launching an NFC reader that introduced Apple Pay and other mobile wallets to small businesses for the first time, while also recently giving them the opportunity to obtain free processing fees when processing transactions through Apple's mobile wallet.