Square Launches NFC Reader to Bring Apple Pay to Smaller Businesses
Mobile payments company Square today announced the launch of its new NFC reader within 100 small businesses around the country, letting stores who previously were unable to accept Apple Pay -- due to the lack of a required contactless reader -- begin supporting the service (via USA Today). The small square-shaped reader will act like all other Apple Pay-accepting terminals, letting users wave an iPhone or Apple Watch near the device to complete a purchase.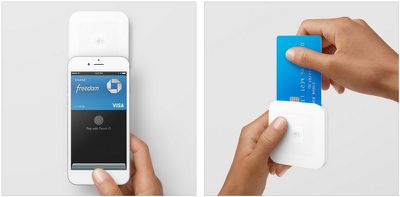 "Until now, technology like our new reader has been out of reach for local businesses," said Jesse Dorogusker, head of hardware at Square, told USA TODAY via email. "Now Square sellers across the country can quickly and easily accept the new forms of payment that are crossing their counter tops."
Business owners can buy the Square reader for $49 to begin allowing customers the option to use Apple Pay in their storefronts. With the recent surge in popularity of chip cards, touted as being a safer and more secure physical payment alternative, the reader also has the option to accept chip cards in a small slot located on the side of the device.
Square initially announced incoming support for Apple Pay last November, with no real hint as to what the device would be. The company then announced the Square reader during WWDC earlier this summer, confirming its NFC and chip-reading capabilities would bring the success of Apple Pay to businesses and merchants who as of yet hadn't had the chance to support the service. Merchants interested in adopting Apple Pay can visit Square's official website to reserve their own NFC reader.