Samsung announced on Monday that it will sell refurbished versions of its Galaxy Note7 smartphones, the model it officially discontinued last year because of fire-prone batteries.
Samsung's Note 7 devices were permanently scrapped in October and recalled globally, after multiple reports of some phones self-combusting. A highly publicized in-depth investigation by the company discovered that batteries supplied by two different companies were to blame. No other faults were discovered in the components or parts.
The news surprised some analysts, coming just days before Samsung officially announces its Galaxy S8, which is generally regarded as the firm's comeback mobile device and "iPhone 8" rival. Samsung said the refurbished Note7 phones will be equipped with new batteries that have gone through new safety checks.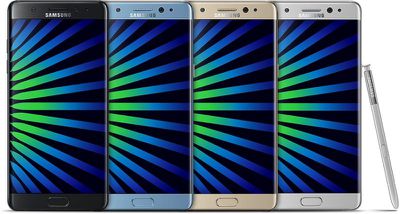 "Regarding the Galaxy Note 7 devices as refurbished phones or rental phones, applicability is dependent upon consultations with regulatory authorities and carriers as well as due consideration of local demand," Samsung said in a statement. "The product details including the name, technical specification and price range will be announced when the device is available. Samsung will not be offering refurbished Galaxy Note 7 devices for rent or sale in the US."
The move should allow Samsung to recoup some of the $2.3 billion in losses it suffered because of the ill-fated phone, but the company told The Verge that the main objective of introducing the refurbished devices was "solely to reduce and minimize any environmental impact".
Last month, Greenpeace protestors interrupted the company's Mobile World Congress keynote and demanded to know what the company's plans were for its 4.3 million recalled devices, so it's possible Samsung's latest announcement is timed to avoid a repeat incident overshadowing its S8 launch on Wednesday. "Samsung's announcement is the first step to show its effort to set a new path for recycling smartphones starting with Note 7s," Greenpeace wrote in a blog post.
Samsung told Reuters the company has not set specifics on refurbished sales plans, including which markets they will be sold in and when they will go on sale. However, it noted that the phones will not be sold in India, as some media mistakenly reported earlier this year.