Following confirmation that Samsung has discontinued the Galaxy Note 7 amid its well-publicized fire-catching problems, the company today gave the first indication of how much the move will cost it for the third quarter of 2016. In a report by Bloomberg, Samsung is said to have cut its third quarter operating profit by $2.3 billion and adjusted profit expectations from 7.8 trillion won ($6.9 billion) to 5.2 trillion won ($4.6 billion).
The company's projection "effectively erases all the mobile business profit that analysts had been projecting," with revenue expected to dive from 49 trillion won to 47 trillion won. On the wave of Samsung's woes, Apple shares reached a record high this year, but Samsung had yet to divulge its potential quarterly loss. Analyst Greg Roh said that Samsung's prediction accounts not only for defective units, but also "the inventories of Note 7s in the channel as well as the components they bought a few months back."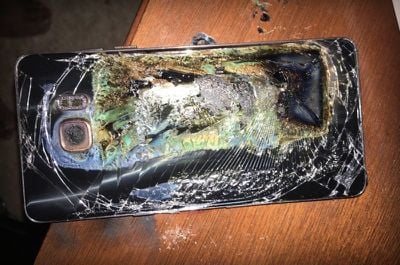 "This is a huge cutback," said Greg Roh, an analyst at HMC Investment Securities Co. "It means Samsung has reflected not only the sales loss from the shutdown but it also means it would bear the costs of the inventories of Note 7s in the channel as well as the components they bought a few months back."

Samsung's mobile division was projected to report operating income of 2.7 trillion won in the quarter, according to estimates compiled by Bloomberg. HMC's Roh said the revised outlook probably erased that number. "We expected the mobile division to see about 2.6 trillion won previously but it will only see a mere 0.3 trillion won in the third quarter," he said.
Samsung's manufacturing division -- which sees the output of semiconductors, glass panels, appliances, and other materials -- is expected to keep the company profitable for the quarter.
As the recall of Samsung Galaxy Note 7 phones continues, the company has begun delivering fireproof shipping boxes to customers affected by the exploding smartphone (via TechCrunch). In one video shared by XDA Developers, the contents of the box are revealed to include three smaller boxes within the larger packaging and a static shield to place the Note 7 in.
The outside of the shipping container notes that it is "forbidden" to transport the contents of the box by aircraft, and can only be returned via ground shipment. Samsung's return box contents also include plastic gloves, reportedly due to the surface of the fireproof layer inside the main package having the potential to irritate some people's skin.