iOS Grew to Capture 42% of U.S. Smartphone Market Over Holidays
From November 2016 through January 2017, iOS devices accounted for 42 percent of smartphone sales in the United States, growing 2.9 percentage points year-over-year thanks to iPhone sales over the holidays. According to new data released by Kantar Worldpanel, the same period saw a decline for Android smartphones, which still captured the largest share of the market at 56.4 percent in the United States, but was down 1.8 percentage points from the same three month period last year.
A similar growth for iOS and decline for Android -- likely due to the Note7 -- was noted by Kantar in a report focusing on OS market shares ahead of the holiday season. In today's findings, Kantar noted that as iOS and Android continue to battle it out in every market, "no other ecosystem is challenging the two giants." Some re-emerging brands catalyzed nostalgic spending for consumers -- including the Nokia 3310 and BlackBerry KEYone -- but their reliance on Android's OS instead of their own legacy OS helped boost Android's market shares.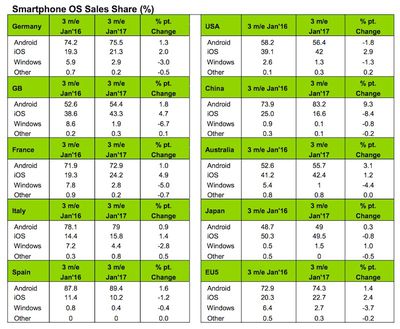 Gone are the days when a BlackBerry OS, Symbian, or Windows Mobile could make a significant impact. It is clear that there will only be two smartphone ecosystems moving forward – iOS and Android. To succeed, phone manufacturers will have to play by those rulebooks.
Kantar noted that the iPhone 7 continues to be a top seller in large markets, particularly in Great Britain, France, and Germany. In total, iOS made gains across most regions excluding Japan, Spain, and China. In China specifically, iOS saw its largest year-over-year decline of 8.4 percentage points, knocking its market share down to 16.6 percent below Android's 83.2 percent. Kantar noted that while the iPhone 7 is the top-selling smartphone in China as well, increased competition from local vendors Oppo and Vivo contribute to Apple's continued yearly declines in the country.
iOS saw its biggest growth in the three months ending January 2017 in France, increasing 4.9 percentage points year-over-year to capture 24.2 of the smartphone OS market share in the country. In all of Europe's five big markets -- Great Britain, Germany, France, Italy, and Spain -- iOS had a 22.7 percent market share, an increase of 2.4 percentage points from the same period last year. Like in the U.S., Android remains dominant in Europe at 74.3 percent of the smartphone market.
A redesigned "iPhone 8" will help boost Apple's share of the market when it launches later this year, although recent rumors suggest that the tenth anniversary iPhone might launch much later than more iterative 4.7-inch and 5.5-inch "iPhone 7s" devices in September. When it does, the all-new iPhone is predicted to include an edge-to-edge OLED display, lack a traditional Home Button, and potentially have wireless charging capabilities.