Uncertainties over Foxconn's manufacturing expansion into the United States have been raised once again, this time following comments made by company chairman Terry Gou, who spoke to reporters at an event celebrating the start of construction on a $8.87 billion display plant in Guangzhou, China (via Nikkei). At the ceremony, Gou told reporters he had just returned from a trip to Washington without confirming if he met with the Trump administration while he was there.
Since the November election, and even before it, the Trump administration has advocated for Apple specifically to make some of its products in the U.S. and not at foreign facilities, leading to multiple reports that Apple suppliers are looking into building large plants stateside. Now, Gou has raised concerns over any of the company's previous U.S. manufacturing plans because he's not sure if the U.S. government can work fast enough to stay ahead of all of the work needed to be done before any company like Foxconn can build a successful, large-scale facility in the states.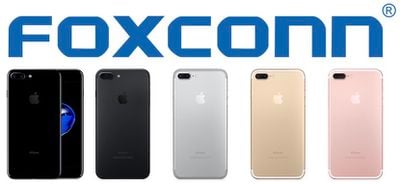 "I am concerned as to whether the U.S. can resolve all the investment issues in only a few months' time," Gou said, adding America also lacks the skilled labor and comprehensive supply chain the display industry requires.

"Does the U.S. offer incentive programs for foreign investors? They'll need to pass bills first, and we'll need to wait for American authorities to make a decision first," Gou said.
Ultimately, Gou tried to avoid strictly siding with one country or the other, saying that the best course of action would be to support both once the option became available. "I am not willing to choose between [the U.S. and China]. Why should I give up on any market?" Gou ended the line of questioning from reporters with a pledge for the governments of both countries to avoid a trade war and "get along peacefully."

"It is in the interest of the entire humanity that China and the U.S., the top two economies in the world, can get along peacefully," Gou said. "They are in the process of gambling with each other, and I can foresee that the two will eventually work together to grow [their] economies and deliver beneficial outcome for many. If they don't, then everyone will be losers."
In a separate report from Reuters, Foxconn is now said to have lost ground in its bidding for Toshiba's memory chip business "due to its close ties with China." The Japanese government is worried about "the transference of key technology" if a winning bidder has a close relationship with China, and Toshiba executives are reportedly aware of the government's wishes and "will take into account how close bidders are to China in the selection."
Apple accounts for over 50 percent of Foxconn's total revenue, and because of lukewarm demand for the iPhone 7 in 2016, Foxconn saw its first ever profit decline since the company went public 1991. Optimism has now surrounded the company's 2017 outlook, however, due mostly to excitement for the debut of the "iPhone 8," perhaps called the "iPhone Edition."
Note: Due to the political nature of the discussion regarding this topic, the discussion thread is located in our Politics, Religion, Social Issues forum. All forum members and site visitors are welcome to read and follow the thread, but posting is limited to forum members with at least 100 posts.