Foxconn Reports First Ever Profit Decline on Back of Slow iPhone Sales in 2016
Following a year filled with doom and gloom stories surrounding Apple and its first revenue decline in thirteen years, major iPhone supplier Foxconn Technology Group has reported its own first ever sales decline since the company went public in 1991. In a report by Nikkei, "lukewarm demand" for the iPhone 7 and a "saturated smartphone market" are said to be to blame for Foxconn's downturn.
In total for 2016, Foxconn's revenue of 4.356 trillion New Taiwan dollars (approximately $136 billion) was down 2.8 percent from its 2015 earnings. As a slight bright spot, its revenue for December grew 9.8 percent year-on-year because of increased user spending for the approaching Chinese New Year holidays, "and the relatively robust demand for the 5.5 inch iPhone 7 Plus model."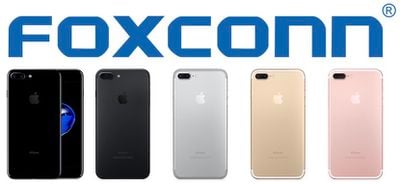 Apple's overall revenue decline in 2016 also included the company's first year-over-year decline in iPhone sales -- the first ever dip in profit for the iPhone. The lowering of demand for the smartphone directly impacted the company's manufacturing partners, with analyst Vincent Chen reporting that in total 207 million iPhones were shipped in 2016, down from 236 million in 2015. That's even lower than what Nikkei predicted midway through last year -- believing shipments would total between 210 and 220 million.
There's expected to be a turn around this year, however, with Chen predicting Foxconn's revenue to grow between 5 and 10 percent on the back of "healthier demand" for the tenth-anniversary iPhone. Apple and its products account for more than 50 percent of Foxconn's revenue.

"Look forward to 2017, we think Foxconn's revenue could grow by 5% to 10%," said Chen. The growth drivers for the current year will come from healthier demand for the next iPhone 8 and a mild rebound in the PC market, according to Chen. Foxconn is also the world's biggest desktop assembler.

For 2017, iPhone's shipment could rise to some 221 million, said Chen.
A lack of "compelling" features for the iPhone 7 was said to be the main reason why many Galaxy Note7 owners decided to stay in the Samsung family when those devices began malfunctioning. After the events of the Samsung Galaxy Note7 crisis began subsiding, analysts criticized Apple for failing to capture new customers into its ecosystem from the churning Note7 user base.