iPhone Manufacturer Foxconn Mulling $7 Billion U.S. Display Factory Investment With Apple
Taiwanese iPhone manufacturer Foxconn is considering a $7 billion joint investment with Apple to establish a display manufacturing facility in the United States, it was reported on Sunday.
According to the Nikkei Asian Review, journalists who attended Foxconn's annual end-of-year party quoted chairman Terry Gou as saying that Apple is seeking to invest with the firm in a U.S. facility, which will eventually create 30,000 to 50,000 jobs.
The increase in demand for larger display panels makes local production a better solution than shipping from China to the U.S. market, Gou told reporters. In addition to the proposed display facility, Gou said Foxconn plans a new molding facility in the U.S., with the state of Pennsylvania earmarked as a possible location following investment discussions with local officials.
Gou also said that Smart Technologies, a Foxconn-controlled interactive display startup based in Canada, may move south of the border, after U.S. President Donald Trump signaled a possible renegotiation of the North American Free Trade Agreement.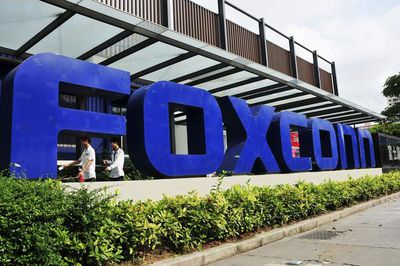 According to reports, Gou said that the rise of U.S. protectionism was an inevitable consequence of the Trump administration, but questioned whether American consumers would be willing to pay significantly more for products as a result.

"In the future they may be paying some $500 more for U.S. products, but those do not necessarily work better than a $300 phone," he said, after urging U.S. authorities to provide concessions on land and electricity to facilitate Foxconn's manufacturing operations.

"Yes, we will continue to add to our investments in China," Gou told reporters. "China is the world's biggest market, and why should we turn down the biggest market?"
Foxconn's facility in Zhengzhou, China, produces over 100 million iPhones every year. Taking into account production from Taiwan and Hong Kong, China was responsible for more than 19 percent of Apple's global revenue in the fourth quarter of 2016.
Rising tension between the U.S. and China could benefit Gou, say people familiar with the tycoon's style. "Foxconn is known to leverage different provinces and countries against each other for better terms," an industry source said, suggesting Gou could pit both countries against each other as both sides courted new investments from the company.
Earlier this week it was reported that Foxconn was planning a new facility next to Apple's forthcoming research and development center in the southern Chinese city of Shenzhen. "Foxconn will not leave. Foxconn will stay in China," Gou told reporters in Guangzhou, when asked whether he plans to move existing manufacturing sites to the United States.
Note: Due to the political nature of the discussion regarding this topic, the discussion thread is located in our Politics, Religion, Social Issues forum. All forum members and site visitors are welcome to read and follow the thread, but posting is limited to forum members with at least 100 posts.