Australian Banks Seek Open Access to NFC Functions of Apple Pay in New Application
A group of Australia's biggest banks have again applied to the Australian Competition and Consumer Commission (ACCC) in a bid to negotiate with Apple over Apple Pay. The banks -- including Bendigo and Adelaide Bank, Commonwealth Bank of Australia, National Australia Bank, and Westpac -- today announced that they have "narrowed" their application with the ACCC to focus on gaining open access to the NFC function integral to Apple Pay.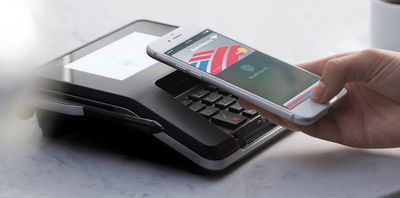 The new application echoes the banks' original, filed last July, which also included gaining access to the NFC-based mobile payments software in iPhones. Apple currently only allows its own mobile payment system to access the NFC-hardware in its iPhone devices, which banks argue is an anti-competitive restriction that hampers consumer choice. The banks say that while Apple has a "stranglehold" on this technology, no actual competition can take place in the mobile wallet marketplace.

Open access to the NFC function on iPhone is required to enable real choice and real competition for consumers, and to facilitate innovation and investment in the digital wallets available to Australians. Without open NFC access on iPhone, no genuine competition in the provision of mobile wallets is possible and Apple will have a stranglehold on this strategically important future market.
Previously, the coalition of banks also sought to challenge Apple on Apple Pay due to the service's fees. In the new application, the banks decided to eliminate arguments over fees and any other items "the ACCC considered may lead to a public detriment." Prior to the new application, the ACCC had denied the banks' request to negotiate over Apple pay two times last year.

"The applicants are ready, willing, and able to participate in Apple Pay, alongside being able to offer their customers their own mobile wallet products," payments specialist and spokesperson on behalf of the applicants, Lance Blockley, said.

"This application has always been about consumer choice, and allowing competition between the makers of mobile wallets to offer the best products and features they can to determine which mobile wallet consumers will use. The applicants want to put up their digital offerings head to head with Apple Pay, and let the market and individual consumers decide which best suits their needs.
According to the banks, full access to NFC on iPhone devices "would enable the delivery of substantial public benefits to Australian consumers," across a variety of categories other than mobile payments, including loyalty programs, member security, and other NFC-related cases. Because of these benefits, the banks said they they "have again been supported by nearly all of Australia's leading retailers."
Last week, Apple responded to the Australian banks' continued obstruction of Apple Pay by saying it was damaging to consumers and small business alike, ultimately referring to their request for access to NFC as a potentially hazardous "Trojan horse" scenario. In today's applications, the banks referred to Apple's comments as a "conspiracy theory" and dismissed it as "fantasy."

The applicants flatly reject Apple's unsupported assertions that the application is about an objection to the fees that Apple wishes to impose, rather than NFC access. Apple's conspiracy theories about "Trojan horse fees" are similarly dismissed by the applicants as fantasy.
According to Blockley, who spoke on behalf of the banks, the NFC-targeted application is not an attempt to delay Apple Pay's wider support in Australia as it would be offered alongside other mobile wallets -- similar to how Android supports open access to the NFC function. "Any delay or frustration will be as a result of Apple refusing to negotiate," Blockley said.