Apple's Stock Sets First New All-Time High Closing Price in Nearly Two Years
Apple's stock set a new all-time high closing price of $133.29 today, eclipsing a previous record of $133 set on February 23, 2015. The stock still remains around $1 off its true all-time high of $134.54 set on April 28, 2015.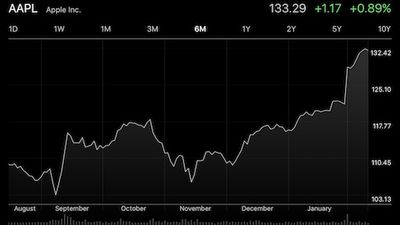 Apple's stock has been steadily rising over the past four months, particularly since the company reported record-breaking earnings results, including revenue of $78.4 billion and net quarterly profit of $17.9 billion, in late January. The stock rose over $7 in a single day following the January 31 results.
Apple analyst Brian White of investment firm Drexel Hamilton has persistently said AAPL remains "one of the most underappreciated stocks in the world," and his target price for the stock is $185. Steven Milunovich of UBS and some other analysts have also said the stock is undervalued in recent weeks.
Apple's stock has rebounded significantly since dropping to a 52-week low of $89.47 last May. The price was likely impacted by Apple's comparably lackluster 2016, which marked the company's first year-over-year decline in annual revenue since 2001 after 51 consecutive quarters of uninterrupted sales growth.
Apple is the world's most valuable company with a market capitalization approaching $700 billion.