Apple Expected to Report Best Financial Results Ever Today Amid Return to Growth
Apple is scheduled to report its earnings results for the first quarter of the 2017 fiscal year at 1:30 p.m. Pacific Time today, revealing how much money it made between September 25 and December 31 of last year. The holiday shopping season typically makes this quarter Apple's most lucrative of the year.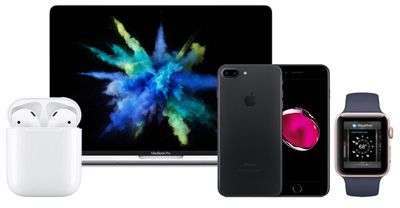 Apple benefitted from an extra week of sales in the quarter—14 versus the usual 13—due to a step it takes every 5 years or so to realign its September-ending fiscal quarter with the typical December-ending calendar quarter. Given the week fell between Christmas and the New Year, the seven extra days of sales could be significant.
Apple's official guidance calls for revenue of between $76 billion and $78 billion, which would be its highest revenue in a single quarter ever—topping its current record of $75.9 billion in the year-ago quarter. Apple also expects gross margin between 38% and 38.5%, compared to 40.1% in the year-ago quarter.
The average expectation among Wall Street analysts is that Apple will report revenue around the $77 billion mark, or roughly the midpoint of Apple's guidance. Herein is a list of some of those predictions, ordered from lowest to highest, based on compiled averages and research notes obtained by MacRumors:
• Mark Moskowitz of Barclays: $76.6 billion
• Timothy Arcuri of Cowen and Company: $76.68 billion
• Steven Milunovich of UBS: $76.8 billion
• Amit Daryanani of RBC Capital Markets: $76.9 billion
• Rod Hall of J.P. Morgan: $76.9 billion
• Bloomberg News compiled average: $77 billion
• Yahoo Finance compiled average: $77.38 billion
• Reuters compiled average: $77.4 billion
• Brian White of Drexel Hamilton: $77.61 billion
• Neil Cybart of Above Avalon: $80 billion
The record-breaking revenue would put an end to Apple's past three consecutive quarters of declining revenue on a year-over-year basis, which resulted in the company's first annual revenue decline since 2001. Prior to 2016, Apple had an impressive streak of 51 consecutive quarters of uninterrupted sales growth.
While iPhone sales dropped for the first time ever last year, the smartphone is still Apple's most important product by far—it accounted for 60% of the company's revenue last quarter. The consensus among analysts is that Apple will have sold around 76 million iPhones, up slightly from 74.8 million in the year-ago quarter.
Most analysts believe a higher ratio of customers purchased a Plus-sized iPhone this launch, with the dual-lens camera in particular enticing customers to choose the 5.5-inch model over the smaller iPhone 7.
Above Avalon analyst Neil Cybart estimates Apple sold 5.6 million Macs in the quarter, a 5% increase over the 5.3 million it sold in the year-ago period. The quarter was highlighted by the launch of long-awaited MacBook Pro with Touch Bar models in late October, which likely inflated sales.
iPad sales may remain on a longstanding downward trend based on units, but more expensive iPad Pro models have led to higher average selling prices and increased revenue for Apple's tablet business.



Cybart expects revenue from Apple's growing services category to rise to $6.7 billion, a 22% increase over the $6.1 billion it reported in the year-ago quarter. These earnings are derived from the App Store, iTunes, Apple Music, iCloud storage subscriptions, AppleCare, Apple Pay, licensing, and other services.
Investors will be looking closely at "Other Products" to measure the impact that Apple Watch Series 2 models and AirPods have on the category's revenue, which Cybart forecasts will rise 9% year-over-year. The category also includes sales of the Apple TV, Beats products, iPods, and many accessories.
Cybart expects Apple's guidance will point towards continued growth next quarter, suggesting the 2017 fiscal year will remain on an upward trend.
MacRumors will be providing live coverage of Apple's earnings results conference call with CEO Tim Cook and CFO Luca Maestri at 2:00 p.m. Pacific Time today.