Apple Releases Trailer for 'Carpool Karaoke' Series Coming Soon to Apple Music
During the 59th Annual Grammy Awards on Sunday, Apple released the first trailer for its Carpool Karaoke series coming soon to Apple Music.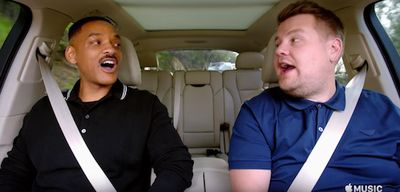 Carpool Karaoke: The Series, based on the popular segment from The Late Late Show with James Corden, will feature 16 celebrity pairings "riding along in a car together as they sing tunes from their personal playlists" and "surprise fans who don't expect to see big stars belting out tunes one lane over."
Apple said the series will feature James Corden, Will Smith, Billy Eichner, Metallica, Alicia Keys, John Legend, Ariana Grande, Seth MacFarlane, Chelsea Handler, Blake Shelton, Michael Strahan, John Cena, Shaquille O'Neal, and many more. The series is
expected to have a different host every episode
.
Apple purchased the rights to Carpool Karaoke, produced by James Corden, Ben Winston, and Eric Pankowski, in July 2016 in an effort to drive users towards Apple Music. The series will consist of 16 half-hour episodes, and Apple's version will reportedly feature a format "that is more of an interview series."