Apple Removes Tool to Check if an iPhone or iPad is Activation Locked
Apple has removed its Activation Lock status checker on iCloud.com at some point in the past few days. The tool enabled users to enter the serial number or IMEI of an iPhone, iPad, or iPod touch and find out if the device is secured with Activation Lock, helping buyers avoid purchasing a device locked to another user.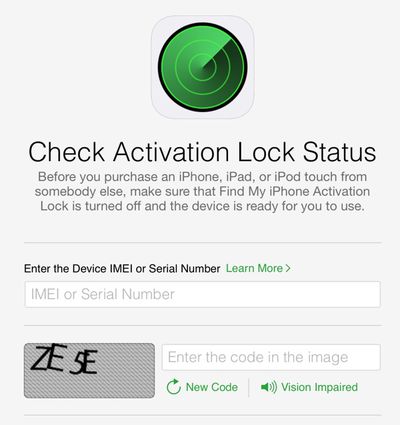 An individual purchasing a used iPhone on eBay or another website, for example, was able to request the device's serial number and use Apple's tool to verify that Activation Lock had been turned off. If the device was still locked, or if the seller refused to provide the serial number, then it was likely lost or stolen.
The iCloud page where the tool was available now returns a "Not Found" page aka 404 error. Apple also removed the following reference to the tool from a related Find My iPhone support document earlier this week:
How do I check for Activation Lock before purchasing a used device?

When you buy an iPhone, iPad, iPod touch, or Apple Watch from someone other than Apple or an authorized Apple reseller, it is up to you to ensure that the device is erased and no longer linked to the previous owner's account.

You can check the current Activation Lock status of a device when you visit icloud.com/activationlock from any Mac or PC.
Apple has not explained why it removed the page. The company did not immediately respond to a request for comment.
Activation Lock, enabled automatically when you turn on Find My iPhone, is designed to prevent anyone else from using your iPhone, iPad, iPod touch, or Apple Watch if it is ever lost or stolen. A device with Activation Lock enabled requires the owner's Apple ID and password before it can be used, even if it is erased or reactivated.
Last year, a number of users who purchased a brand new iPhone experienced an Activation Lock issue where their device was locked to someone else's Apple ID. Apple disabled Activation Lock for affected users upon being provided proof of purchase, but it is unclear if the strange issue factored into the page's removal.
Activation Lock was introduced alongside iOS 7. The tool to check the Activation Lock status of a device had been available since October 2014.