Apple Creates Tool to Check Activation Lock Status on iOS Devices
Apple has released a new Activation Lock Status tool (via iDownloadBlog) that will make it easier for people buying a used iPhone, iPad, or iPod touch to avoid getting a device that is locked to another user.
Accessible via iCloud.com, the Activation Lock Status Checker allows users to enter a Device IMEI or Serial number to check whether a device has Activation Lock turned on.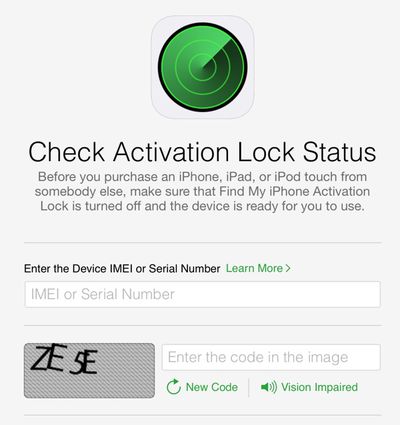 Activation Lock was introduced alongside iOS 7 and is designed to prevent iPhones and iPads from being stolen. When Find My iPhone is enabled, it effectively locks an iOS device to a user's Apple ID account, and even when wiped, the device will require the original Apple ID and password.
Activation Lock has cut down on iPhone-related thefts in major cities, but it has also affected users who purchase an iOS device used. If Activation Lock is enabled, a used iOS device will be entirely useless until unlocked by the original owner.
If an iOS device does have Activation Lock enabled, Apple's tool will give users a clear warning that an Apple ID and password will be required before another user can activate the device. It also provides instructions on how to remove Activation Lock from a used device, which requires contacting the previous owner.


Anyone who is purchasing or selling a used iOS device should find Apple's new tool very useful, as it can be used before a transaction takes place to ensure the iOS device will be usable by the new owner.