Barclays estimates that Apple will report a record-breaking $76.6 billion in revenue when it announces its earnings results for the first quarter of fiscal 2017 on January 31. Apple reported revenue of $75.9 billion in the year-ago quarter, and offers guidance of $76 billion to $78 billion for this quarter.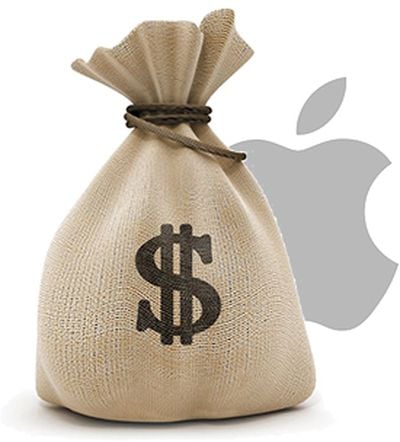 UBS estimates Apple will report revenue of $77.8 billion next week, which falls on the higher end of Apple's guidance. UBS analyst Steven Milunovich maintained a "buy" rating for Apple stock with a target price of $127—compared to $120 currently—in a research noted issued to investors today.
Meanwhile, Barclays analyst Mark Moskowitz lowered his price target for Apple's stock from $119 to $117 in a research note issued to investors today.
Moskowitz does not expect "meaningful upside potential" for Apple in 2017. He believes customers increasingly "mixing down" by opting for the iPhone 6s in favor of the iPhone 7 could weigh on Apple, while he is also concerned about China and India failing to emerge as growth catalysts in the next 12 months.
He said the so-called "iPhone 8" will potentially have "no must-have advanced features," making him skeptical of a meaningful growth rebound for Apple in the second half of this year. He added that smartphones have become "more than good enough" to serve the needs of most users over multiple years or until the device breaks.
While not likely to have a similar replacement cycle of PCs (i.e., 5-7 years), we think the smartphone market and thereby the iPhone franchise stand to face incremental headwinds this year and next, as the smartphone useful life extends to 3 to 4 years from 2 to 3 years previously. As a result, the prospect of revolutionary technology incorporated into the next iPhone (iPhone 8) is not likely to counter the expanding useful life of smartphones in general.
Specifically, he said OLED display options, bezel or bezel-less designs, an embedded Home button, and wireless charging are commonly mentioned in its discussions with industry participants about the next iPhone, but that the new features might not be able to reassert that "must have" element for customers.
Wireless charging in particular may be limited by the need to be close to a charging base. Moskowitz does not expect wireless charging over greater distances to develop until 2018-2019 at the earliest. He acknowledges that Apple could be making strides in this space by partnering with firms like Energous, but he maintains his view.
Nevertheless, he said Apple has a "sticky ecosystem" and a large cash balance that provide decent support for long-term investors.
Barclays predicted Apple has long-term growth opportunities related to India, its growing services category, the enterprise market, artificial intelligence, and possibly the cloud, but it does not expect those potential "what's next?" opportunities to emerge as "major needle movers" for the company over the next 12 months.