AirPods Shipping Sooner Than Expected to Many Customers
AirPods became available for purchase on Apple's website on December 13, and customers who ordered quickly began receiving their shipments as early as December 19. Orders quickly became backlogged, however, and Apple's shipping estimate slipped to four weeks in less than two hours, and to six weeks by the following day.
For customers that ordered within the past nine days, the six-week wait potentially meant waiting until late January or early February to get the all-new wireless earphones. Fortunately, as is often the case, Apple is now shipping many of those orders sooner than expected, with some deliveries now slated for late December.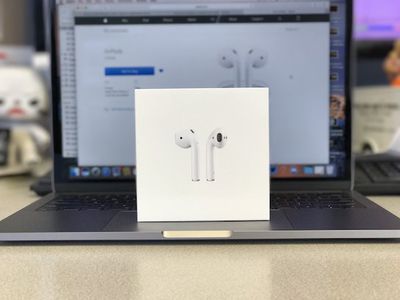 AirPods delivered to MacRumors forum member iPhenom
"Just received my shipping notice for my AirPod order," said
MacRumors
reader York in an email. "The original delivery date was January 12, but it should arrive on December 28th." Likewise, another reader with an original December 29 delivery estimate has now seen his AirPods ship with an estimated delivery date of December 23.
In the AirPods order tracking topic in the MacRumors discussion forums, a handful of other customers with estimated delivery dates ranging from December 29 to January 12 claim their AirPods have now shipped for delivery as early as this week. For some of those customers, AirPods will arrive just in time for Christmas.
"Awesome, mine were scheduled for delivery on the 29th, but suddenly they are supposed to get here tomorrow, the 22nd," said one person. "Order scheduled for delivery on January 12th has shipped with a delivery date of December 28th," said another, noting his shipment was still in China.
With only three days remaining until Christmas, customers may now be pushing their luck to find AirPods in time for the holidays, but a lucky few have managed to find a pair at an Apple Store or place an order through resellers such as Best Buy and the United Kingdom's Carphone Warehouse over the past few days.
Other resellers such as Sprint and Verizon have unfortunately been less reliable, as some customers were able to purchase AirPods from these vendors only to later receive an email saying the order could not be fulfilled at this time. AT&T also
has AirPods on sale
, but it is unclear when orders will ship.
AirPods are Apple's all-new $159 wireless earphones. The cord-free earphones instantly turn on and connect to your iPhone, Apple Watch, iPad, or Mac when taken out of their charging case thanks to Apple's custom W1 chip. Likewise, audio automatically plays as soon as you put them in your ears and pauses when you take them out.
AirPods are controlled mainly by Siri. Doubling tapping an earpiece invokes Siri, and voice commands can be used to adjust the volume, change the song, make a call, and so forth. AirPods deliver up to 5 hours of listening time on one charge, and a 15-minute fast charge provides up to 3 hours of listening time.