AirPods Launch at Apple Stores in United States as First Online Orders Delivered
AirPods have officially launched in the United States and Canada, as Apple Stores begin to open with limited stock available on a first come, first served basis.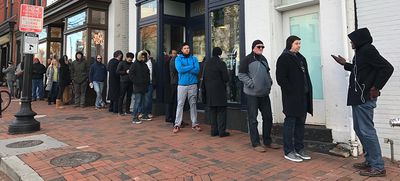 AirPods line at Apple Georgetown in Washington D.C. (Source: MacRumors reader Alexander)
As
seen in Europe
earlier today, customers lined up at a number of Apple retail locations from coast to coast for a chance to purchase AirPods in time for the holidays. The all-new wire-free earphones
launched online last week
, but supplies depleted quickly and orders now face a
6-week shipping estimate
.
MacRumors reader sktgater claimed Apple's iconic Grand Central store had plenty of AirPods stock this morning, while other users reported successful purchases in Chicago; Washington D.C.; Brooklyn; Menlo Park, NJ; Pittsburgh, PA; Tysons Corner, VA; Charlotte, NC; Greenville, SC; Metairie, LA; and elsewhere.

AirPods line at Apple Walnut Street in Philadelphia (Source: Instagram)
Meanwhile, customers are lined up at Apple Palo Alto and other west coast stores as limited stock appears to be readied for those queued.
In-store stock is unsurprisingly depleting quickly due to a combination of limited stock—under 100 units in most stores—and strong demand. MacRumors reader Chris told us the Apple Store in Knoxville, Tennessee only received one pair of AirPods today, while many other locations have already sold out for the day.
"About a dozen people in line at Sherway Gardens," said one Reddit user, referring to a shopping mall in Toronto. "Staff said they got 40 or so pair." Another user said he was third in line at the Apple Store in Square One, a shopping mall in nearby Mississauga. "Only a small crowd of 10. Employee claims 50-60 units in stock."
Apple's in-store Personal Pickup tool has yet to be added to the AirPods product page, so customers would be wise to call their local store ahead of time to confirm availability before making the trip. Apple appears to have set a typical limit of 2 AirPods purchases per customer in stores.

Lucky customers who ordered online within the first hour or so last week are beginning to receive their AirPods today too. The most common delivery estimates are Tuesday, December 20 and Wednesday, December 21, but some customers in the United States in particular have received their orders today.
Apple Stores will continue to receive "regular shipments" of AirPods. Apple authorized resellers and major carriers will begin receiving limited AirPods stock this week as well, so customers still on the lookout may wish to call or check with their local Best Buy, for example, in the United States and Canada.