AirPods Deliveries Arrive Across Europe as Retail Store Stock Dwindles
Early orders of AirPods arrived across Europe this morning as people were seen waiting outside Apple retail stores eager to get hold of a pair of the new wireless earphones before initial stock ran out.
Queues were reported outside Apple's Regent Street store in London and some other brick-and-mortar stores scattered around the U.K., but stock is reportedly limited and going fast. Regent Street was said to have only 150 units, while the Apple Store in Bath reportedly had only 10 in stock upon opening. Reddit user googang619 said that Newcastle's Eldon Square store initially had 25 pairs in at 9 a.m. but "they had sold twenty of them in the first 10 minutes".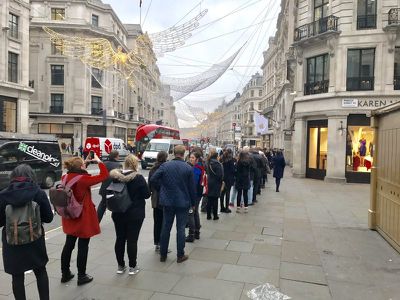 People queue for AirPods outside Regent Street Apple Store (Image: Derek Baker)
For those lucky enough to have got in on the first wave of online orders last week and received the earphones on Monday via courier, the first impressions of Apple's audio accessory have so far been overwhelmingly positive, with wearability and ease of pairing coming in for particular praise.
Bringing a new case of AirPods within two inches of an unlocked iPhone, iPod touch or iPad and flipping the lid brings up a dialog on the screen offering to pair the device. Once the option is tapped, the AirPods are identified as the owner's and subsequently pair automatically.
MacRumors reader The Game 161 said of the Bluetooth connection: "Incredible, left phone in house, walked up the drive and it was still there".


Twitter user Long Zheng called the Bluetooth connection range "spectacular" and said he was able to walk around his whole house listening to podcasts. He also said they were "much more comfortable than traditional EarPods, much lighter on the ear and no pulling from the cord". MacRumors reader Boardiesboi agreed, claiming they "almost feel like they're not there" because they're so light.
As for audio performance, MacRumors reader ssrij called the AirPods "louder than EarPods", with better sound quality and stronger bass than Apple's wired earphones. Bazooka-joe called the audio quality "much better than expected. Lots of bass. Very clear."
Apple has included a Lightning to USB-A charging cable with the AirPods, rather than one with a USB-C connection for connecting to newer MacBook Pros. We'll post a more in depth look at how the AirPods function and perform later in the day.