AirPods Now Shipping to Customers Around the World
After going up for order on Tuesday, Apple's AirPods have now been marked as "shipped" for the first wave of customers who were lucky enough to order their pair before delivery estimates slipped to four weeks, and then six weeks. Many users in the United States, Australia, Canada, Europe, and elsewhere have taken to Twitter and Reddit to share that their AirPods shipments are on the way.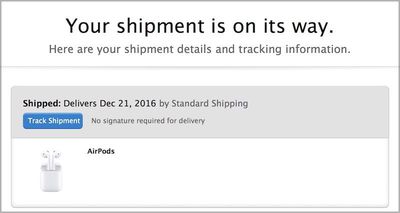 Delivery dates still vary slightly among customers, but the average estimates suggest deliveries on either December 20 or December 21. AirPods launched in more than 100 countries around the world, and a few areas in Europe and Australia saw slightly earlier delivery dates for the wireless headphones than those given to U.S. customers, with some as soon as Monday, December 19. Australia customers specifically reported shipping status updates earlier in the week.
For anyone who missed out on the first run of orders, Apple will begin selling the AirPods in its retail stores Monday morning. Some of the company's authorized resellers and a few carrier stores will also be receiving AirPods stock next week. Given how fast they sold out online, the supply of AirPods in retail locations is also expected to be limited. Nevertheless, in the press release on Tuesday, Apple said that its retail locations will receive "regular AirPods shipments" going forward.