'Super Mario Run' Launches on App Store for iPhone and iPad
Super Mario Run is now available on the App Store for iPhone, iPad, and iPod touch, becoming the first official smartphone and tablet game to feature the iconic Nintendo character. The game is a free download with a $10 in-app purchase required to unlock all 24 courses spanning six worlds.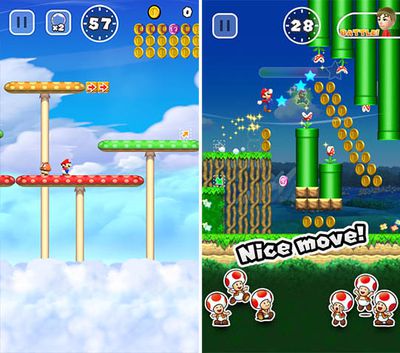 The game is a runner designed for one-handed gameplay. Mario runs forward automatically as players tap to jump, collect coins, pounce on Goombas, avoid obstacles, and reach the flagpole at the end of each course before the timer runs out. Ultimately, Mario must rescue Princess Peach from the infamous Bowser.
Mario automatically vaults over small obstacles, including Goombas, while players can tap over enemies to perform a vault jump. As the levels get more difficult, players will be tasked with performing long jumps, walking over blocks that launch Mario in a particular direction, and other challenges.
Mario can jump off walls and perform a number of stylish moves as players aim to collect pink or purple challenge coins along the way. Challenge coins are often placed near ledges or other difficult to reach areas, requiring an element of skill and precision to collect them all.
A challenge mode called Toad Rally allows players to compete with friends or strangers to see who can obtain the highest score. Players must collect coins and perform stylish moves as usual to attract the largest crowd of Toad spectators in order to win. There is no flagpole in this mode, so players keep running until time runs out.


Toad Rally requires Rally Tickets, which can be acquired in a variety of ways, such as clearing worlds or through bonus games in your own kingdom.
There is also a Kingdom Builder mode, enabling players to create their own kingdom and customize it using coins and toads gathered in Toad Rally, which become part of the kingdom. Placing certain buildings can unlock bonus mini-games and characters such as Luigi, Yoshi, and Toad.
Due to piracy and security concerns, Super Mario Run requires an internet connection to play. iOS devices must be connected to Wi-Fi or a cellular network during gameplay, largely ruling out usage on airplanes or subways. It is also a blow to SIM-less iPhone and iPod touch users when Wi-Fi is unavailable.
Super Mario Run signifies a change in stance for Nintendo, which for years
refused to consider
releasing its popular franchises such as Mario, Pokémon, and The Legend of Zelda on smartphones and tablets, instead limiting the titles to its own consoles such as the Wii and Nintendo 3DS.
Apple and Nintendo have been aggressively marketing the game since it was unveiled in September, with prominent App Store banners, teaser videos, and an on-stage demo on The Tonight Show with Jimmy Fallon. Some analysts believe Super Mario Run could top summer phenomenon Pokémon Go in downloads, but not revenue.
Super Mario Run is rolling out now on the App Store in more than 151 countries. The game can also be demoed at Apple retail stores.