iOS devices in brick-and-mortar Apple Stores around the world are running playable demos of Nintendo's highly anticipated Super Mario Run from today, December 7, for those eager to get an early taster of the new game.
The announcement was made by Nintendo of America president Reggie Fils-Aime on Wednesday evening's The Tonight Show starring Jimmy Fallon, during which a playable version of the company's upcoming Switch console was also shown.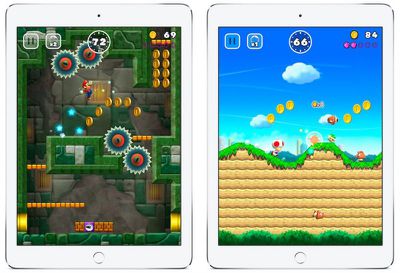 Super Mario Run is Nintendo's first major attempt to crack mobile gaming and is the first of many titles planned for the platform. Driven by its iconic character, the game is expected to generate millions of dollars in revenue for the company. Engadget has posted a remarkably positive hands-on of the free runner title for anyone interested to learn more.
Super Mario Run is set to debut on the App Store on December 15 for iPhone and iPad. The game will be a free download with a $10 in-app purchase required to unlock the full content.