Fitbit Buyout Will See Pebble's Time 2 and Core Wearables Canceled, Refunds Issued
Late last month we reported that Fitbit was closing in on a deal to acquire smartwatch maker Pebble "for a small amount". Bloomberg has now revealed that the buyout will cost "less than $40 million" and exclusively concerns Pebble's software assets, which are being sought by Fitbit "in a bid to better compete with Apple", according to people familiar with the matter.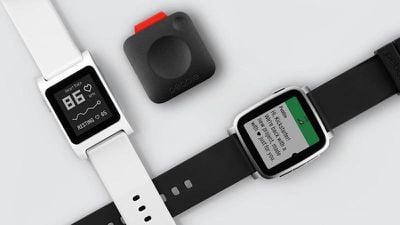 Yesterday's update on the details of the acquisition comes at a time when the wearables market as a whole appears to be facing increased uncertainty and significant profit hurdles. Earlier this week, in response to IDC market research claiming that Apple Watch's share of the wearables market had fallen to 5 percent, Apple CEO Tim Cook said Apple Watch's sell-through rate had hit a new high. Cook was responding to data which suggested fitness trackers "reigned supreme" in the market, yet Fitbit has seen its own struggles, with the company's shares tumbling 30 percent after announcing mixed third-quarter results and weak guidance for its fourth quarter.
To improve its standing in the market, Fitbit reportedly wants to hire Pebble's software engineers and testers, and get hold of intellectual property including the Pebble OS, watch apps, and cloud services. The $40 million buyout sum does not include Pebble's debt and other obligations, product inventory or server equipment, all of which will be sold off separately, said the people, who asked to remain anonymous.
The news all but confirms the end of the road is in sight for Pebble's entire product line-up, including its most recent smartwatch announcements, the Pebble 2, Time 2, and the Pebble Core. The Pebble 2 has already started shipping to people who funded the startup through crowd-funding site Kickstarter, but the Time 2 and Pebble Core will be canceled and refunds will be issued to Kickstarter backers, said the sources.
Following the buyout, Pebble's offices will be closed and former engineers will relocate to Fitbit offices in San Francisco. There's no word yet as to whether Fitbit will decide to use the Pebble brand in future.
The deal will make Pebble stock held by employees "worthless", said sources, with the money earned on the acquisition going to debt holders, vendors, some equity investors, and Kickstarter refunds for the Time 2 and Pebble Core orders.