AirPort Routers Ranked Highest in Customer Satisfaction as Apple Halts Further Development
Apple ranks highest in customer satisfaction among wireless router manufacturers, according to a new study released by J.D. Power today.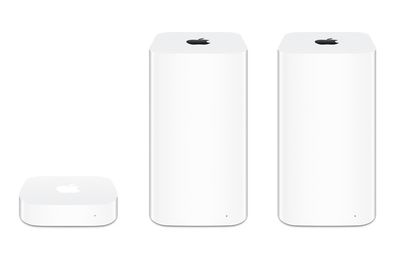 The accolade comes just nine days after a report said Apple has ceased development of its AirPort routers and reassigned engineers working on the products to other teams. Apple continues to sell the AirPort Express, AirPort Extreme, and AirPort Time Capsule, last released in 2013, but future updates appear unlikely.
Apple beat out all other wireless router vendors with a score of 876, based on a 1,000-point scale, followed by ASUS at 860, D-Link at 856, and TP-Link at 854. Apple was the only company to receive a 5-star Power Circle consumer rating, which places it "among the best" according to J.D. Power.


The report, based on responses from 3,037 consumers, measured overall satisfaction across 10 factors, listed in order of importance: Wi-Fi range; reliability; speed of upload/download; restore connection easily; security capabilities; price; ease of use; variety of features; intuitive user interface; and customer service.