AirPods Launch Rumors Now Include Dates in Late November and December
Adding to the pile of recent guesswork rumors centering around the launch of Apple's AirPods, this week a collection of foreign retail websites have listed the Bluetooth headphones with new dates suggesting availability before the end of the year.
First off, today Mac4Ever discovered that French retail website Fnac has posted the AirPods for pre-order, with a suggested shipping date of November 30. If true, that would mark a launch following Black Friday and Cyber Monday, but still leave customers plenty of time to add AirPods to their holiday shopping list.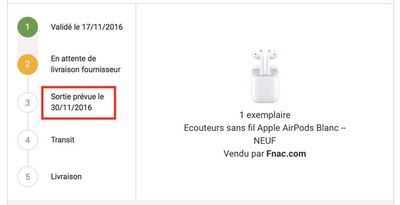 One of many predicted AirPods shipping dates from foreign resellers, this one Fnac
Last week, a launch supposedly set for around tomorrow, November 18, was
floated by an Apple reseller
, which reportedly told a customer it would be getting AirPods stock today, November 17. Although an impending launch as soon as tomorrow is unlikely, many Apple retail stores have been receiving demo units of the AirPods to demonstrate to customers and teach employees how to use them, suggesting Apple still intends to launch the device sooner rather than later next year.
Earlier in the week Letem svetem Applem discovered that Czech website Alza had listed the AirPods as launching December 2016. That date has since been removed from the site, which now simply states that it "accepts pre-orders" for the AirPods.


If production does begin in December, as predicted by Barclays, that still leaves the option that AirPods might not launch until January 2017, which was one of the first delayed date estimates for the headphones after Apple postponed the launch beyond October. Despite that rumor, and a few other extraneous websites that mark AirPods availability as late as March 2017, many still believe it's most likely that Apple will get the AirPods out in time for the holiday shopping season.
With the highly divergent launch dates sprouting up online, it's clear that no one officially knows exactly when the AirPods will come out. On Apple.com, the AirPods are listed as both "coming soon" and "currently unavailable." Following the delay, Apple explained that it needed "a little more time" with the AirPods before they would be ready to launch, but didn't divulge specific reasons why it chose to do so.