AirPods Might Not Launch Until January 2017
Following the confirmation that Apple has delayed its wireless "AirPods" beyond the original late October launch window, foreign supply chain sources are now pointing towards a launch date in January 2017, and not the late 2016 estimation that many believed would help the Bluetooth device sell during the holidays.
The news comes from Chinese-language Economic Daily News (via DigiTimes), which cites market watchers who believe AirPods manufacturing supplier Inventec will see a profit boost in January because of the new launch date for the device.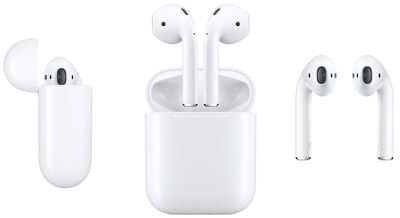 Apple originally planned to release the AirPods at the end of October, but has postponed release. Inventec is expected to begin shipping AirPods in January 2017, the paper noted.
Because of AirPods orders, Inventec's revenue is expected to grow 7 percent in 2017, to reach around $23.83 billion, while its earnings per share are also estimated to increase by 35 percent. Its Q4 2016 earnings will be mainly in its PC supplier business, which will "stay flat" from the third quarter output of around 4.85 million units shipped.
The connection between Inventec and AirPods first came in a report by KGI Securities analyst Ming-Chi Kuo in September. Apple then announced the device during its September 7 iPhone 7 event, where it confirmed the headphones have up to 5 hours of music playback and high-quality sound through a "seamless and automatic connection" between devices, as well as a battery case that includes up to 24 hours of charge.