Apple's Online Store Down Ahead of Today's 'Hello Again' Mac Event
Apple's online storefront has been taken offline this morning, just over six hours prior to the company's "Hello Again" media event at its Cupertino, California headquarters, where Tim Cook and other senior executives are expected to announce an all-new MacBook Pro, refreshed MacBook Air, an Apple TV guide, and possibly other new Macs and additional product and service updates.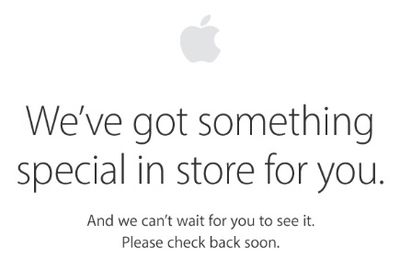 Apple will provide a live stream (spoiler free) of the keynote on the Apple TV and on iOS and Mac devices through its website, starting at 10:00 a.m. Pacific Time. MacRumors will also have full coverage of the event, with a live blog on our front page at MacRumors.com and updates in 140 characters or less through our @MacRumorsLive account on Twitter. Earlier this week, we outlined what to expect at the event.
We'll also have specific coverage of today's announcements in separate news stories, and our community forums are a great place for readers to discuss the announcements before, during, and after the event. Be sure to keep tabs on the MacBook Pro and MacBook Air sections in particular for the latest discussions.