iPhone 7 Camera Module Confirms Optical Image Stabilization for 4.7-Inch Model
A new leaked image of the iPhone 7's rear camera module has been posted online today (via Nowhereelse.fr), bringing with it more concrete evidence that the 4.7-inch iPhone 7 will include optical image stabilization alongside its various other camera improvements. Previous reports surrounding the smaller-screen iPhone have hinted at the inclusion of image stabilization, but today's camera module leak provides the first visual hint of its addition into the upcoming 4.7-inch iPhone.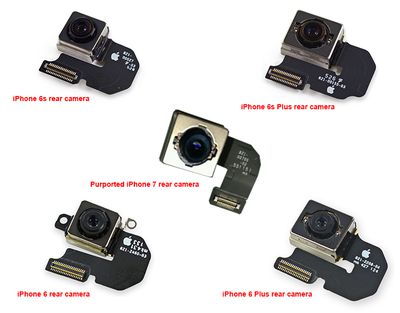 Images via NWE
The component in question includes four small cutouts surrounding the single-lens camera, housing the springs and equipment that allow for the lens to float slightly, leading to clearer, less blurry images. The same component for the iPhone 6 and iPhone 6s lack these cutouts. Since the iPhone 6 and iPhone 6 Plus in 2014, optical image stabilization has been limited to the "Plus" versions of Apple's smartphone, alongside features like better battery life.
With optical image stabilization now believed to be coming to both the iPhone 7 and iPhone 7 Plus, the different camera abilities will be focused on the single-lens and dual-lens hardware for the 4.7-inch and 5.5-inch versions of the smartphone. Mockups over the last few months for both devices have shown larger camera bumps when compared to the iPhone 6s and iPhone 6s Plus, and the camera hardware in general has been believed to be one of the major selling points of an otherwise modest update year.


Currently, it's believed that Apple will reveal the iPhone 7 at an event on September 7, and open up pre-orders on September 9. The specific launch date is a bit more ambiguous, with both September 16 and September 23 flagged as potential options.