iPhone 7 Could Launch on September 23 Following September 9 Pre-Orders
With Apple set to launch the iPhone 7 next month rumors about the phone and the event where it will debut have been picking up. We've already heard information suggesting the iPhone 7 will be introduced at an event set to take place on Wednesday, September 7, two days after the Labor Day holiday, and now it appears we may have some insight into the actual release date.
While Apple typically releases the iPhone about two weeks after introducing it, suggesting a September 16 launch date, new scheduling information from AT&T shared by 9to5Mac indicates that the iPhone 7 might not launch until later in the month, on September 23.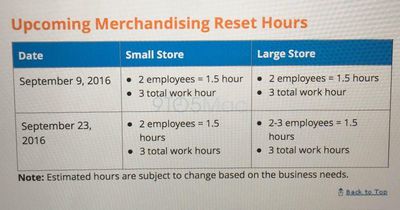 A leaked AT&T retail schedule featuring "Merchandising Reset" hours indicates employees will need to spend several hours reorganizing AT&T stores on both September 9, 2016 and September 23, 2016. It's possible this schedule pertains to the iPhone, but there's no concrete proof that it does.
Previous information from notable smartphone leaker Even Blass has suggested pre-orders for the iPhone 7 will take place on Friday, September 9, two days after the prospective debut event, which is in line with the schedule from AT&T.
Blass has also predicted an iPhone launch for September 16, but if this AT&T information is accurate and does pertain to release preparations, that previous prediction could be incorrect. September 16 and September 23 are both likely candidates for an iPhone release date.
Regardless of when Apple plans to release the iPhone 7, we don't have long to wait for an unveiling with only three weeks to go until the rumored September 7 event date. Media invites for the event are likely to go out next week, perhaps on Thursday August 25 or Friday, August 26.