Apple Sued Over iPhone's Proximity Sensor in New Patent Troll Lawsuit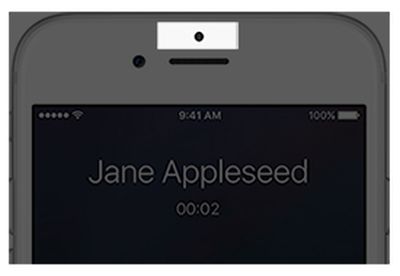 511 Innovations, Inc. is the latest patent troll to file a complaint against Apple with the U.S. District Court for Eastern Texas, claiming that the iPhone's proximity sensor infringes upon five of its patents.
The asserted patents¹, filed between 1999 and 2012, relate to various methods for measuring optical characteristics of an object, such as color spectrums, translucence, gloss, and position detection.
511 Innovations is a Texas-based non-practicing entity that does not appear to sell any sensor-related products, but instead seeks to enforce its patented technologies through litigation. Eastern Texas is a common district for patent holding firms to target larger companies like Apple, which has fought similar lawsuits from VirnetX, Dot 23, VoIP-Pal, and others in recent years.
The small firm acquired the asserted patents in 2013 from JJL Technologies, which claims to have sold world market-leading spectrophotometers, according to court documents filed electronically this week. It then licensed the patents to Spectral Sensors, whose website has been "under construction" since 2013. Further complicating things, JJL Technologies had acquired the patents itself from LJ Laboratories.
511 Innovations has demanded a jury trial and is seeking damages in the form of a reasonable royalty, plus interest and fees, in addition to a permanent U.S. sales ban on iPhones and all other infringing products and services.
Legal battles of this nature can prove costly. Last month, Apple agreed to license Cover Flow- and Time Machine-related patents from Mirror World Technologies for $25 million, and it agreed to pay another $25 million in a Siri-related in April. It is, however, close to escaping a $533 million verdict won by Smartflash, LLC, and a $625 million verdict won by VirnetX was overturned last week.
¹ U.S. Patent Nos. 6,307,629, 7,110,096, 7,397,541, 8,472,012, and 8,786,844.