Apple Watch Captured Estimated 75% Smartwatch Market Share in Launch Quarter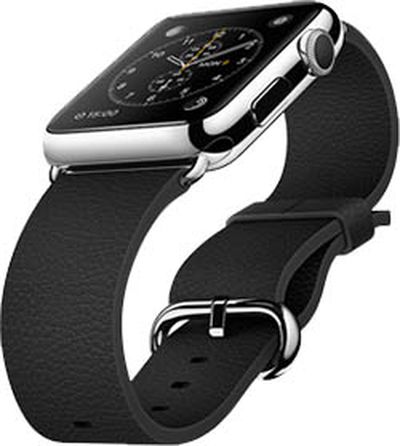 The latest data from research firm Strategy Analytics estimates that the Apple Watch captured 75.5% global smartwatch market share during its launch quarter, trailed by Samsung's estimated 7.5% market share.
Strategy Analytics estimates that Apple sold 4 million Apple Watches in the second quarter of 2015, while runner-up Samsung sold an estimated 400,000 smartwatches during the three-month period ending June 30.
Many analysts have adjusted their Apple Watch sales estimates following the company's earnings report on Tuesday, with the consensus now ranging between 2.2 million and 3 million units sold, so Strategy Analytics's 4 million estimate seems overly high. Nevertheless, it is clear that the Apple Watch has become the best-selling smartwatch since its release.
Neil Mawston, Executive Director at Strategy Analytics, added, "We estimate Apple Watch shipped 4.0 million units and captured a dominant 75 percent smartwatch marketshare worldwide in Q2 2015. Apple Watch launched in sixteen major countries and saw decent take-up from iPhone loyalists in the United States and elsewhere. Apple Watch has clearly raised the bar for the global smartwatch industry. The ball is now in the court of rivals, like Samsung, to respond."
The launch of the Apple Watch helped the overall smartwatch market grow an estimated 457% annually to reach a record 5.3 million units in the second quarter of 2015. Strategy Analytics reports that smartwatch shipments were higher in this quarter than throughout all of 2014, when Samsung led the market and an estimated 4.6 million smartwatches were shipped globally.

Samsung held a commanding 73.6% global market share in the smartwatch market in the year-ago quarter, but the South Korean electronics maker now trails the Apple Watch by a significant margin. Apple Watch is currently available in the United States and eighteen other countries, and the wrist-worn device is set to launch in New Zealand, Russia and Turkey on July 31.
Apple and Samsung together accounted for 8 in 10 smartwatches sold, similar to the two-horse race between the rival tech companies in the smartphone market. Strategy Analytics estimates that other manufacturers shipped a combined 900,000 smartwatches during the second quarter of 2015 for 17% market share, down from 26.4% market share in the year-ago quarter despite selling 600,000 more smartwatches.
Apple CEO Tim Cook said that Apple Watch sales "exceeded expectations" during the company's third quarter earnings report on Tuesday, but stopped short of providing any specific sales figures. Cook's only comment was that Apple Watch sales during its first nine weeks of availability were higher than sales of the original iPad and iPhone when those devices first became available for sale.