iPhone 7 Plus Follow-up Images Reignite Smart Connector Rumors
Following yesterday's circulation of iPhone 7 case images, NWE this morning posted another series of shots from the same "reliable" source, this time including what looks like the larger iPhone 7 Plus handset with dual-lens camera.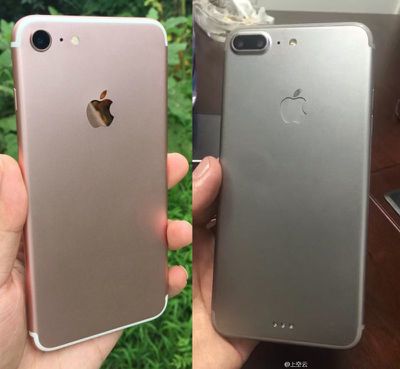 The additional iPhone 7 pictures offer a few more angles of a possibly fully assembled 4.7-inch device, without revealing anything particularly new, so we've reproduced them here merely for completion.


Readers will note that the power/standby button, volume controls and mute switch can be made out on the sides of the case, while the metallic Apple logo appears to have been fitted, but the images still leave us none the wiser as to whether this device has a headphone jack or not.


The iPhone 7 Plus images on the other hand at least rekindle another salient talking point: the three holes on the bottom of the case's back side indicating a possible Smart Connector. Such a connector is designed to provide power and a data connection to accessories like keyboards, at least on the iPad Pro, but it's not entirely clear what its purpose would be on a 5.5-inch handset.
The possibility of a Smart Connector being exclusive to the iPhone 7 Plus has been the subject of a number of rumors, including both as a potential inclusion on the device and an idea already scrapped by Apple. Third-party cases have also fueled conflicting rumors on the existence of such a connector.


Another image offers a view of the front of what looks like an almost fully-assembled 5.5-inch handset, which appears to show a traditional physical clickable home button, rather than the rumored flush touch-sensitive one, a feature likely reserved for the tenth-anniversary OLED iPhone expected in 2017.
Again, the angle of the shot makes it hard to know for sure whether the headphone jack is gone or not. Elsewhere, eagle-eyed readers will have also noted the odd lack of a mute switch on the side of device, usually found next to the volume buttons.
Alleged leaks aside, both devices are expected to be officially unveiled by Apple in the fall. In addition to the aforementioned features, the smartphones are expected to have faster Apple A10 processors, 32GB of base storage, improved waterproofing, and faster LTE and Wi-Fi.