Apple has donated $1 million to organized efforts in China working to battle the country's worst flooding in years (via USA Today).
The China Foundation for Poverty Alleviation (CFPA), a non-governmental body, said on Monday that it has received 7 million yuan ($1 million) from Apple, the first U.S. company to donate to the CFPA in this year's flood. The group said on its website that it will work closely with Apple to make sure the money is best applied.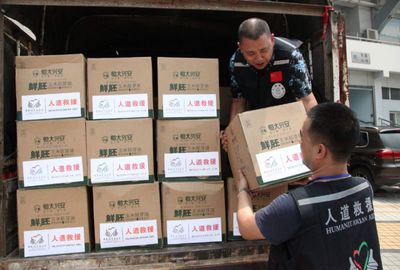 "Our thoughts are with all those devastated by the flooding along the Yangtze River," Apple's CEO Tim Cook wrote on Weibo, the Chinese equivalent to Twitter.
According to China's Ministry of Civil Affairs, torrential rains have affected 31 million people in over 500 towns across the region. Due to the impact of the floods, which have continued since late June, approximately 1 million people remain in need of emergency assistance.
This isn't the first time Apple has donated to relief efforts in China. In 2014, Apple donated $1.6 million to help relief efforts responding to a major earthquake in the country's Yunnan Province that killed over 600 people and caused widespread damage. Apple made a similar but larger donation in support of relief efforts following another earthquake in China in 2013.
The company has committed to charity support on a number of other occasions, including facilitating donations from iTunes Store users following the 2015 refugee and migration crisis across the Mediterranean Sea and Europe, as well as after large wildfires in Alberta, Canada earlier this year, Superstorm Sandy in 2012 and Super Typhoon Haiyan in 2013.