Apple is now accepting donations to the Canadian Red Cross through iTunes in Canada to help people affected by large wildfires in the Fort McMurray, Alberta area.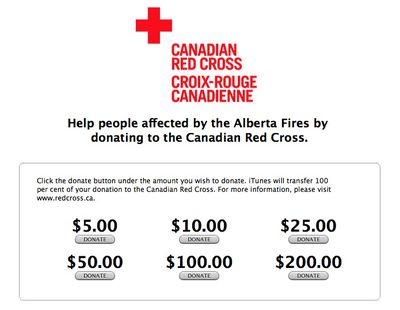 iTunes donations to the Canadian Red Cross can be made in the amount of $5, $10, $25, $50, $100, or $200. iTunes Store credit cannot be used to make a donation and no tax receipt will be provided.
The Fort McMurray wildfires began on May 1 and have since grown to reach over 200,000 hectares in size, damaging communities and forcing over 80,000 residents to evacuate to southern cities such as Edmonton and Calgary.
Apple facilitates Red Cross donations to support many relief efforts worldwide, including for the recent earthquakes in Japan and Ecuador.