TextEdit Icon Spotted on iOS 10 During WWDC 2016 Demo
During its What's New in Metal, Part 1 session at WWDC 2016, Apple used an iPad to demo the graphics API's new adaptive tessellation capabilities on iOS 10. At the 17:58 mark of the video, a TextEdit icon can be seen on the iPad's home screen from the multitasking app switcher screen.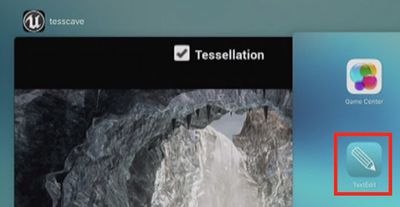 TextEdit is Apple's basic word processor preinstalled on macOS Sierra and previous OS X versions, but the company has not released a mobile version for iPhone, iPad, and iPod touch as it has done for some of its other first-party Mac apps. There are also no third-party apps that fully match the app shown in the screenshot.
TextEdit and Preview icons were previously spotted in a pre-release iOS 8 screenshot, but neither of the apps were included in the public version of the software update. An early 2014 report had said both apps would debut on iOS 8 as read-only document viewers for Preview and TextEdit files stored in iCloud from a Mac.
While there is an outside chance that Apple plans to release a basic text editor on iOS to complement Notes and Pages, the most likely explanation is that TextEdit serves as a simple "Hello World" testing app for internal developers. Apple is known to have several internal apps for use by software engineers and employees only.
Game Center is also shown, despite being removed as a standalone app on iOS 10.
Apple previewed iOS 10 at its WWDC 2016 keynote on June 13 and has seeded the first beta to developers. A public beta will be available in July ahead of an official launch in the fall. iOS 10 is compatible with most devices that can run iOS 9, excluding the iPhone 4s, iPad 2 and 3, original iPad mini, and fifth-generation iPod touch.
(Thanks, Ahmad!)